MuscleTech
Hydroxycut Hardcore Next Gen
Scientifically Tested Key Weight Loss Formula*
The Next Generation Of Weight Loss*
Product Overview
Advanced, Scientifically Tested Weight Loss Support*

Extreme Energy & Mental Focus*

Features Scutellaria, Guayusa & Coleus

Patent-Pending Key Ingredients
Subjects taking the key weight-loss ingredient in HYDROXYCUT HARDCORE NEXT GEN (green coffee) lost 10.95 lbs. in 60 days with a low-calorie diet and 3.7 lbs. in an 8-week study with a calorie-reduced diet and moderate exercise.*
THE WORLD'S FIRST SUSTAINED-RELEASE
Next Generation Weight loss & Extreme Sensory!
HYDROXYCUT HARDCORE® NEXT GEN features a never-before-seen combination of Coleus Forskolii, Yohimbe, Guayusa and Blue Scullcap (Scutellaria) to deliver an unparalleled sensory effect! *
Scientifically tested weight loss and extreme sensory*
For 20 years, the HYDROXYCUT name has been synonymous with results. And now next evolution of HYDROXYCUT is here. Two decades in the making, new HYDROXYCUT HARDCORE NEXT GEN features potent doses of key ingredients in unique, never-before-seen combinations to deliver the ultimate stimulant experience. It also contains green coffee for real weight loss results. Subjects taking the key ingredient in HYDROXYCUT HARDCORE NEXT GEN (green coffee extract [C. canephora robusta]) lost 10.95 lbs. in 60 days with a low-calorie diet and 3.7 lbs. in an 8-week study with a calorie-reduced diet and moderate exercise. Most thermogenic formulas don't have any scientific studies backing their key weight loss ingredients, let alone two.*
Ultra-amplified Thermogenesis
HYDROXYCUT HARDCORE NEXT GEN invokes a powerful state of thermogenesis in the body to help fire up your metabolic rate! You'll have everything you need to train harder and sculpt the body you've always wanted!
You've never tried anything like this before – guaranteed! Try HYDROXYCUT HARDCORE NEXT GEN today!
Enhanced Mental Focus
Then, utilizing a precise dose of ultra-potent caffeine anhydrous, HYDROXYCUT HARDCORE NEXT GEN also helps to enhance mental focus. Coupled with an intense burst of energy, you'll train with maximum intensity after just one dose!*
145MG
COLEUS / GUAYSA / OPHIOPOGON
Never Before Seen Combination of
Powerful Ingredients!
290MG
CAFFEINE ANHYDROUS
A scientifically researched ingredient shown to trigger thermogenesis, increase energy and enhance focus.*
100MG
Coleus extract (as Coleus forskholii)
An ancient subtropical herb supplying forskolin. It's been trusted for years for its effects when combined with caffeine.
75MG
Blue scullcap (as Scutellaria lateriflora)
An herb that contributes to the unique, unparalleled sensory effect.*
250MG
Ophiopogonis
A root native to South East Asia that contains polysaccharides.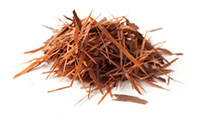 40MG
Yohimbe extract (as Pausinystalia yohimbe)
Yohimbe supplies both rauwolscine and yohimbine alkaloids.
20MG
GUAYUSA (AS ILEX GUAYUSA)
A traditional Amazonian tea that contributes to the unique, unparalleled sensory effect.
TESTED FOR QUALITY AND PURITY
Each batch of new MuscleTech HYDROXYCUT HARDCORE® NEXT GEN undergoes strict quality control and is third-party tested and verified to ensure that each bottle of HYDROXYCUT HARDCORE® NEXT GEN has the highest purity, quality and consistency.
SCIENTIFICALLY DOSED KEY WEIGHT LOSS INGREDIENT*
HYDROXYCUT HARDCORE NEXT GEN contains a key weight loss ingredient (green coffee) backed by scientific data gathered from two randomized, double-blind, placebo-controlled trials published in the Journal of International Medical Research and the French journal Phytotherapie. Both studies on the key weight loss driver in HYDROXYCUT HARDCORE NEXT GEN demonstrate its ability to help people lose weight.*
STUDY I - 60 DAYS
In one study, subjects taking the primary ingredient (green coffee extract) in HYDROXYCUT HARDCORE® NEXT GEN for 60 days lost, on average, 10.95 lbs. versus the placebo group, which lost an average of 5.40 lbs. Both groups followed a low-calorie diet.
STUDY 2 - 8 WEEKS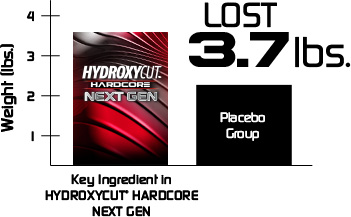 In a separate 8-week study, subjects using green coffee lost an average of 3.7 lbs. versus subjects using a placebo, who lost an average of 1.25 lbs. Both groups followed a calorie-reduced diet and performed moderate exercise.*
Ratings & Reviews
By clicking the button above, you agree to entering the Bodybuilding.com Reviews section. Products in the Store are not intended to diagnose, treat, cure, or prevent any disease.
Great product for taking off the pounds. I love taking early in morning before my cardio. Other doses I space out . When I take this, this is all the caffeine I need. My energy feels incensed drastically and lasts most of the day with no crash. I recommend this to anyone trying to lose weight.
I have included this product into my weight-loss regiment. It has really helped to keep me on track in several ways. This product helps with providing good energy that I often experienced from a low calorie diet. Additionally, it helps to curb hungry pains/ cravings. It is not a magic pill, but it definitely is a strong aid and has helped me reach my goals faster.
Hands down the best metabolic fat burner I have ever tested, and didn't know how they would improve on the original hydroxycut. I have cycled this Next Gen a couple of times and I can tell a significant difference within a couple of days, just by the amount of sweat and internal body temperature increases within thirty minutes or so of ingesting! I am dedicated to MuscleTech's hydroxycut next gen and if they can improve on this formula then WOW only comes to mind.
This is some serious stuff! You definitely need to work your way up to the maximum dose. I received this in exchange for a review, but I had purchased it before that and was impressed. It took me longer than the directions indicated to increase my dosage, because it was so powerful I didn't feel a need to go further. I noticed increased energy and an increase in sweat when working out. When not being active, I didn't feel strung out or anything, I just felt like I had more energy. I don't know if the product itself helps lose weight, or if the increased energy makes me more likely to be active and lose weight. Either way, this stuff works!
Good fat burner, also good to get rid of water weight you may have. I have been a long time user of hydroxycut. This new formula is a bit different then the old stuff I use to take. Once my body adapted to it it worked just as good.

I was hesitant trying this because of potential side effects but I have not have any negative side effects. This gives me plenty of energy throughout the day and is great for my workouts. It has given me that extra boost that I have needed this past month.
Started taking this product about 2 weeks ago, all I have to say is "Wow". this product combined with my NO supp kicks the heart up a bit, however I do not get the jitters like I do with other supps that I have taken for energy. Not only am I making gains, I am cutting also which is blowing me away (especially after around 2 weeks on the supp). Eat right, train right and use Hydroxycut Hardcore Next Gen and watch your body transform!
Taking the product as directed and wow, makes me sweat, kicks my heart rate up a notch. No jitters, no real crash to speak of and definitely gets me motivated and moving! Loving the feel of this and best of all no crazy side effects with sleep or jitters!

Hydroxycut Hardcore Next Gen is much better than Hardcore Elite plus it doesnt give you the jitters. Must workout while taking these.

I use this for a little extra energy while at work...it helps.
† This price is the retail price for this product found at one or more retail websites in the last 30 days. The price may not include shipping cost, tax, sale or promotional prices, or discounts such as member pricing. Prices may change. Bodybuilding.com verifies this price every 30 days.
10 Capsules
5 Servings | $1.43 Per Serving
Buy 1 Get 1 Free
100 Capsules
50 Servings | $0.72 Per Serving
180 Capsules
90 Servings | $0.47 Per Serving
What's in MuscleTech Hydroxycut Hardcore Next Gen
Serving Size: 2 Capsules

Servings Per Container: 50

Amount Per Serving

% Daily Value

Green Coffee Blend

400

mg

†

Green Coffee Blend [consisting of standardized Green coffee bean extract (as Coffea canephora robusta), supplying 45% chlorogenic acids and Green coffee bean extract (as Coffea canephora robusta)]

Caffeine Anhydrous

290

mg

†

Coleus extract (as Coleus forskholii) (root)

100

mg

†

Supplying forskolin

Blue skullcap extract (as Scutellaria lateriflora) (root)

75

mg

†

Yohimbe extract (as Pausinystalia yohimbe) (bark)

40

mg

†

Supplying yohimbine

Ophiopogon extract (as Ophiopogon japonicus) (root)

25

mg

†

Supplying polysaccharides

Guayusa (as Ilex guayusa) (leaf)

20

mg

†

† Daily Value not established.

Other Ingredients:

Gelatin Capsule (Gelatin

, Titanium Dioxide

, FD&C Red No. 40

, FD&C Blue No. 1)

, Microcrystalline Cellulose

, Magnesium Stearate

, Silicon Dioxide.
Directions For Hydroxycut Hardcore Next Gen: Individual tolerances vary. Ensure you achieve your comfort with each stage before increasing your dosage. Take each serving 30 to 60 minutes before your two largest meals of the day (eg. breakfast and lunch). Do not exceed 4 capsules in a 24-hour period. Avoid snacking and drink 10 glasses of water each day. Avoid usage within 5 hours of bedtime. For best results, use for 60 days in combination with diet and training. Do not use for more than 8 weeks. Read the entire label before use and follow directions provided.
Warnings: Not intended for use by persons under 18. Do not use if pregnant or nursing. Discontinue use and consult a medical doctor if you experience unusual symptoms. Discontinue use two weeks prior to surgery. Consult a medical doctor before use if you have been treated for, or diagnosed with or have a family histroy of any medical condition, or if you are using any prescription or over-the-counter drug(s), including blood thinners. This product should not be consumed by persons with cardiovascular disorders, anxiety or sleep disorders. One serving of this product contains up to as much caffeine as three cups of coffee. Caffeine sensitive individuals may experience the following symptoms, including (but not limited to), restlessness, nervousness, tremors, headaches, anxiety, palpitations, increased heart rate or difficulty sleeping. Do not combine with other sources of caffeine or stimulants. Consult a medical doctor before starting any diet or exercise program. Do not exceed recommended serving. Improper use of this product will not improve results and is not advised. Use only as directed. KEEP OUT OF REACH OF CHILDREN.
* These statements have not been evaluated by the Food and Drug Administration. This product is not intended to diagnose, treat, cure, or prevent any disease.
---