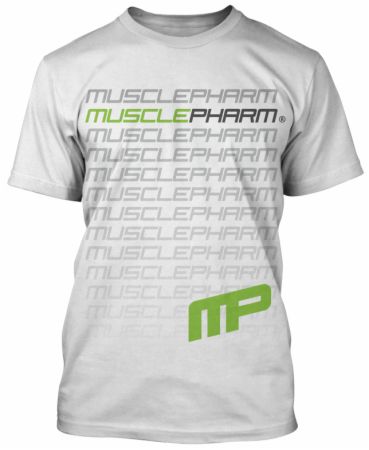 MusclePharm Sportswear
Flagship Tee
, White Small
100% Ringspun Cotton!
Perfect For The Club, The Office Or (Of Course) The Gym!
Product Overview
As seen on MTV's "The Challenge: Cutthroat" while being worn by Team MusclePharm athlete and host of the show, TJ Lavin. MusclePharm's Flagship Tee is another versatile training essential that's easily adaptable to all phases of your workout. It's crafted using 100% high quality, ring spun, combed cotton, giving a softer and lighter feel. It also provides optimal ventilation to keep any athlete dry. Fashion fit and cut makes it perfect for the club, the office or (of course) the gym.
View Size Chart
Ratings & Reviews
By clicking the button above, you agree to entering the Bodybuilding.com Reviews section. Products in the Store are not intended to diagnose, treat, cure, or prevent any disease.

Great quality both material and print. Good fit. Great buy.

Very poor quality work on this t-shirt. First the subtitle says "moisture wicking material", tag inside says "100% Cotton"....I was imagining something like DryFit or ClimaCool! So I figured, well that sucks, I guess I have a T-Shirt just to wear. I look and the front image and it's really crooked and the white is miss aligned so it is doubled and ugly....MusclePharm doesn't have a QA department? Next the shirt is stuck together with spray glue from the screen printing process and there was some red paint on the arm. Worst shirt I have ever bought, probabally will never wear it....not really sure if this says anything about the quality of the company, really not sure if I want to support them. I also got a shaker that leaks from them, didn't really care about that till that too much, but now I see a trend!
The material really doesn't feel like many of the other moisture-wicking shirts on the market. That being said, these are excellent t-shirts. Well made, soft fabric, feels like they will hold up for a long time. I have had mine for several months now, and they go through the wash once or twice a week. No fading so far, logos still look brand new. They are a longer t-shirt which I like. Not knee length or anything stupid like that, but they won't ride up my stomach when I am doing presses and stuff like that.

Great quality both material and print. Good fit. Great buy.
Looks awesome. Breathes well and isnt all itchy like alot of other shirts I use.