24/7 Customer Service 1-866-236-8417
MuscleMeds CREATINE DECANATE Product Guide
PROMOTION
PROMOTION

Limited Time Offer!

For a limited time, buy 1 MuscleMeds CREATINE DECANATE, 300 Grams, Unflavored & 1 MuscleMeds AMINO DECANATE, 360 Grams in the flavor of your choice and save $5! Hurry while supplies last!

Add both items to your cart and the discount will automatically be applied.
See discounted Subtotal when viewing your cart.
Limit 1 Per Order.

Professional Strength Micronized Creatine
Support Increase In Muscle Size & Strength*
Boosts ATP & Energy Output During Exercise*
Promotes Recovery & Reduced Muscle Soreness*
CREATINE DECANATE
Creatine's suggested muscle building and strength benefits have made it one of bodybuilding's top sports supplements. MuscleMeds new CREATINE DECANATE provides a powerful dose of purified, micronized creatine monohydrate via the scientifically advanced DecaDrive Technology to support maximum anabolic muscle building, increased muscular power, reduced soreness and improved recovery.*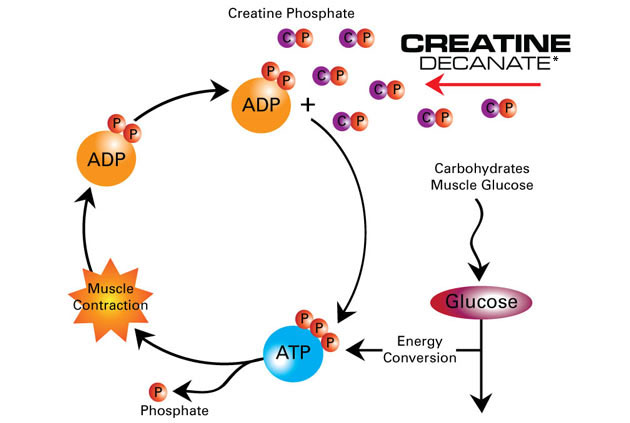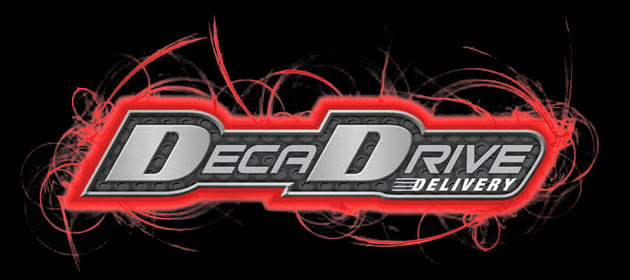 Nutrient Uptake Accelerator*
The revolutionary DecaDrive Delivery Technology involves the use of delivery methods using the compounds PEG (as polyethylene glycol) and Decanoate (as sodium caprate) to increase amino acid infusion.* PEG is a suggested intestinal absorption enhancer used to increase the solubility and dissolution of amino acids, thereby promoting overall conditions for maximizing transcellular and paracellular routes of absorption.* Decanate is a clinically tested intestinal absorption enhancer. Its principle mode of bio-dynamic action includes increasing the paracellular permeability by enlarging the tight paracellular junctions (openings), thereby promoting greater uptake and transport of aminos into the bloodstream. AMINO DECANATE's amino acids are also micronized to reduce particle size and further optimize intestinal transport through the transcellular and paracellular pathways.* The end result is increased solubility, dissolution and enhanced transcellular and paracellular absorption for faster, greater and more powerful amino acid utilization.*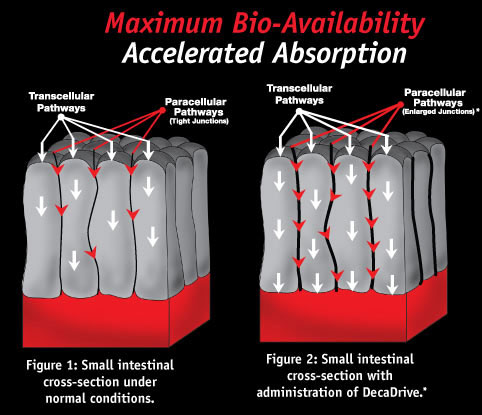 DecaDrive Delivery: Figure 2 illustrates the enhanced absorption of amino acids using the DecaDrive Delivery through the transcellular and paracellular pathways. As you will note, the decanoate increases the space between the tight junctions of the paracellular pathways.* In addition, by reducing particle size and improving dissolution with PEG and micronization the uptake of amino acids in the intestines is enhanced through both transcellular and paracellular routes of absorption.*
NEW DECADRIVE SERIES FROM MUSCLEMEDS - SHIFT YOUR MUSCLE BUILDING INTO OVERDRIVE*
MuscleMeds CREATINE DECANATE Purchase Information
Order today using our 100% secure server and get it at the lowest prices in the world with our fast, inexpensive 2-3 day shipping! NOBODY beats our overall price!
300 Grams

$19.99

$11.98

Unflavored

In Stock
Recommended For You
More Info
Optimum Nutrition Presents:
Train Longer and Harder with Intense Energy and Focus*

More Info
Universal Nutrition Presents:
Supports Rigorous Training for All Competitive Strength and Power Athletes*
Do You Use This Product?
MuscleMeds:
CREATINE DECANATE
300 Grams

$19.99

$11.98

Unflavored

In Stock
Manufacturer information:
This works well with:
What's in MuscleMeds CREATINE DECANATE?
300 Grams

Unflavored

Supplement Facts

Serving Size

1

Level Scoop

(5

g)

Servings Per Container

60

Amount Per Serving

Creatine Decanate™ (Creatine Monohydrate, Decanoic Acid, PEG 8000 And PEG 3350)

5

g

**

** Daily Value not established
Directions For CREATINE DECANATE: Mix one level scoop of Creatine Decanate with 8 to 10 oz. (240-300mL) of water, juice or your favorite sports drink. Take 1 to 2 times daily.
Warnings: Keep Out Of Reach Of Children.
Protect from heat, light and moisture.
Do not purchase if seal is broken.
* These statements have not been evaluated by the Food and Drug Administration. This product is not intended to diagnose, treat, cure, or prevent any disease.