Product Overview
BCAA POWER
FERMENTED BCAA FORMULA
HUNTER LABRADA | Team Labrada
WATCH THE VIDEO
ABOUT BCAAs
Branched chain amino acids (BCAAs) consist of three amino acids - leucine, valine, and isoleucine. BCAAs play a significant role in building and repairing muscle after a workout, and also act as a "signal" to your muscles that nutrients are available for increasing muscle mass. Muscle proteins are damaged during exercise, and muscle cells will use BCAAs to buffer the loss of certain non-essential amino acids or to provide energy during long periods of exhaustive training.*
WHAT IS BCAA POWER?
LABRADA BCAA POWER™ is a delicious BCAA powdered drink mix made using highest quality, fermented BCAA amino acids, fermented L-glutamine, plus electrolytes.
The 2:1:1 ratio BCAA blend (2 leucine: 1 isoleucine: 1 valine) contained in BCAA POWER™ has been shown to be the optimum ratio in providing both amino acids as building blocks AND taking advantage of leucine's role as an anabolic signal in the muscle cell.
Taking this BCAA combination immediately prior to, or during exercise will prime your muscles to respond to your training.
WHY FERMENTED?
NOT ALL BCAAs ARE EQUAL.
Did you know that not all BCAA (Branched Chain Amino Acids) supplements are created equal? Not from the ratio, or additional ingredient standpoint... but from the actual QUALITY of the aminos themselves.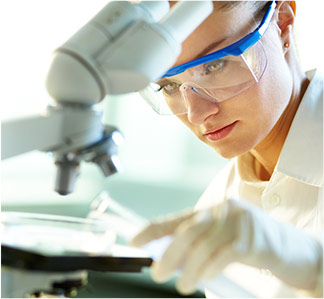 There are a several different ways to produce amino acids, and the most common method is a harsh acid extraction from animal products. This process, which involves hydrolysis for several hours using high heat and strong acids, creates amino acid hydrolysates that must then be filtered, dried, and refined to make them fit for human consumption. This is the most popular way to produce amino acids due to the abundance of raw materials, lower cost and ease of manufacturing. This process may produce a product that is contaminated with allergens.
The other, less common, and more expensive method of production of amino acids is accomplished through the fermentation of cultures in a pharmaceutical lab. Through this process, no animal products are used as starting materials; and no harsh chemicals or high heat treatments are used to manufacture the aminos. The result is a higher quality, allergen-free, and more efficacious amino acid product.
Labrada proudly uses fermented BCAAs and L-glutamine in BCAA POWER™, to ensure that you receive the highest quality and value for your dollar, while protecting you from contaminants found in lower quality amino acids.
BCAA POWER OVERVIEW
7g Fermented, pure branched chain amino acids providing high levels of leucine to stimulate protein synthesis and insulin for post-workout muscle growth.*
3g Fermented, pure L-glutamine to help protect muscle tissue from breakdown and improve recovery.*.
1g Coconut Water Extract for Electrolyte Replacement to help replace electrolytes lost from sweating and improve hydration.*
ELECTROLYTE COMPLEX CONTAINS:
20mg Calcium • 40mg Potassium
25mg Sodium • 2mg Magnesium
1mcg Chromium • 1mcg Molybdenum
Vegan Friendly
Clean, refreshing taste - Delicious!
TRUTH IN LABELING
Product labeling should mean what it says. Labrada Nutrition performs independent 3rd party product testing at analytical labs to ensure that Super Charge!® meets the label claims. Every lot of Labrada products is tested to ensure the contents are PRECISE. Labrada Nutrition has been performing independent 3rd party product testing at analytical labs for over 20 years, and has received a Federal Trademark registration for Lee Labrada's well-known product quality guarantee:
"If it's on the Label, it's in the bottle!"®
Ratings & Reviews
By clicking the button above, you agree to entering the Bodybuilding.com Reviews section. Products in the Store are not intended to diagnose, treat, cure, or prevent any disease.
I received the mango as a sample...The overall flavor and texture was good. It was nice and fruity which I like. I liked it so much I place an order for the mango and pineapple. I really enjoy the pineapple as well.
8Orange Mango
8Pina Colada

The flavor was difficult to get used to at first. You can tell it's fermented by the taste. I just diluted it with more water and it is tolerable but not my favorite BCAA.
7Pina Colada
8Strawberry Kiwi

Tastes amazing. I mix it with my pre-workout to really enhance my session. I've tried many other amino blends, and this has the best result/taste/price combo.

I have had the opportunity to try all three flavors and none of them disappoint. All three are fantastic. I usually sip Amino Thrust during my workouts but these taste so good I may sub them in. I add this into my postwork out shake which consistent of unflavored or vanilla supps. The added flavor from the BCAA is amazing. Its like drinking a fruit smoothy. The amino breakdown is great as well. It has a higher amount then in most other powders and having the glutamine added in has allowed me to stop adding it separately. Add to that the electrolyte complex and it is great for recovery. I would recommend this to anyone looking to add a BCAA either to trigger protein synthesis or to get more protein building blocks without the calories.
10Orange Mango
8Pina Colada
9Strawberry Kiwi
got a 5 serving sample of BCAA Power and thought it performed very well. the Orange Mango flavoring was quite intense but a little additional water easily solved that. overall solid product that i would purchase in the future
super solid Amino product that delivers results as advertised. outstanding recovery and enhanced endurance. love the overall quality of BCAA Power, great taste and ease of mixing.
Received this product sample as a free promotional sample and used it all. The orange mango was a good flavor. I didn't notice any substantial differences vs my normal BCAA's, but if cost is comparable I'd buy this for the flavor.
I got a free sample through Bodybuilding.com. The product mixed easily in juice or water and tasted great. I was able to power through my classes and put in a hard workout.
i liked the way BCAA Power performed for me. endurance was enhanced and recovery was fast. the Pina Colada flavoring was pretty good but there there was just something a bit off about it. perhaps it was something to do with the fermented ingredients. it did mix up easily and with very little residue which was great! at less than 1.00 per serving BCAA Power is a good value and i would easily recommend it.
† This price is the retail price for this product found at one or more retail websites in the last 30 days. The price may not include shipping cost, tax, sale or promotional prices, or discounts such as member pricing. Prices may change. Bodybuilding.com verifies this price every 30 days.
5 Servings
$1.80 Per Serving
Flavor
Rating
Orange Mango

In Stock

9.3
Pina Colada

In Stock

8.8
Strawberry Kiwi

In Stock

9.2
Buy 1 Get 1 50% Off
30 Servings
$0.93 Per Serving
Flavor
Rating
Cherry Limeade

In Stock

--
Orange Mango

In Stock

9.3
Peach

In Stock

--
Pina Colada

In Stock

8.8
Strawberry Kiwi

In Stock

9.2
What's in Labrada BCAA Power Powder
Serving Size: 1 Scoop (14g)

Servings Per Container:

30

Amount Per Serving

% DV **

Calories

10

Total Carbohydrate

2 g

1%*

Sugars

1 g

†

Calcium

35 mg

4%

Magnesium

4 mg

1%

Sodium

15 mg

1%

Potassium

30 mg

1%

Fermented Branched Chain Amino Acid Complex 2:1:1

7 g

Fermented Leucine

3.5 g

†

Fermented Isoleucine

1.75 g

†

Fermented Valine

1.75 g

†

Fermented L-Glutamine

3 g

†

* Percent Daily Values are based on a 2,000 calorie diet.

† Daily Values not established.

Other Ingredients:

Coconut Water

, Malic Acid

, Citric Acid

, Coconut Oil Creamer

, Natural Flavor

, Calcium Silicate

, Beet Juice (Color)

, Silicon Dioxide

, Sucralose

, Acesulfame Potassium (Ace-K).

Allergen Information: Contains Soy (Lecithin), Tree Nuts
Directions For BCAA Power Powder: Mix 1 scoop in 8 oz of cold water or your favorite beverage, before or after training. On non-training days, take 1 scoop mixed in 8 oz of water or your favorite beverage, any time of day. Store in a cool, dry place.
Warnings: Do not exceed two scoops per dose. Always consult your doctor before using any dietary supplement. Do not use if you are pregnant, nursing or have liver or kidney problems.
* These statements have not been evaluated by the Food and Drug Administration. This product is not intended to diagnose, treat, cure, or prevent any disease.
---