24/7 Customer Service 1-866-236-8417
Recent Searches
Clear Recent Searches
KickButt:

Amped Energy Ballz
Have You Kicked Butt Today?
Enhance Your Workout Experience!
Supported Goal: Increase Energy
Main Ingredient: Caffeine
KickButt Amped Energy Ballz Product Guide

The Nutritional Dietary Supplement
with Natural Ingredients and No Preservatives.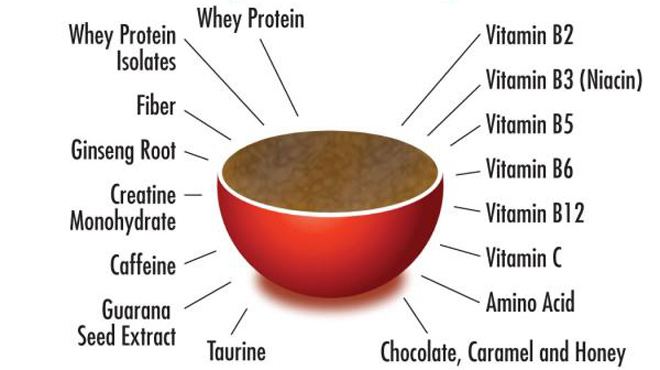 What Is In Kickbutt Amped Energy Ballz?
Whey Protein
Is one of the most nutritious dietary proteins available. It is a superior source of energy, and is considered the "super star" ingredient, especially in the area of sports nutrition. It is essential for strength, muscle and bone repair and endurance.
Rice Flour
Is high quality long grain rice from which the husk or hull has been removed. Brown rice contains all the natural vitamins and minerals found in the bran layers and germ, and it is WHEAT free (gluten free).
Fibresol-2™ Resistant Maltodextrin (Dietary Fiber + Complex Carbohydrates)
Especially important for digestive health, dietary fiber is essential for nutritional well-being. Each package of Kickbutt Amped Energy Ballz™ contains 6grams of Fibersol-2™ Resistant Maltodextrin, a water-soluble dietary fiber and complex carbohydrate (the good kind). Fibersol-2TM is a scientifically-validated "good source of dietary fiber."
Honey
The only natural sweetener known that needs no additional refining or processing to be utilized. Carbohydrates provide the high-octane fuel for all working muscles. As a carbohydrate, honey is a good supplier of energy, and contains beneficial protein, vitamins and minerals.
Taurine
Found in meat and fish, and produced by the human body, this essential amino acid plays a role in regulating the heartbeat and brain function. Taurine can become depleted during times of high stress or physical exertion. At these times taurine supplementation may reduce fatigue and enhance body function.
Creatine Monohydrate
Creatine is an amino acid that can help increase strength and vigor, and preserve muscle mass. Studies have shown that creatine can increase the performance of athletes in activities that require quick bursts of energy.
Ginseng Root
Time and history (3000 yrs) and scientific data have shown Ginseng to have a significant positive effect on vitality, immune function, and a variety of health-related issues. Studies have verified the evidence of the positive effects of Ginseng on physical performance and cognitive function.
Guarana Seed Extract
Guarana is a shrub native to the Amazon. Its use as an effective energy tonic, for mental acuity, and to enhance long-term memory has been scientifically validated. A natural source of caffeine, Guarana has also demonstrated anti-oxidant properties.
Chocolate
The right kinds of fats are essential for optimum performance. Kickbutt Amped Energy Ballz™ contain premium chocolate consisting of all-natural, readily digestible cocoa butter.
Riboflavin (B2)
Is important to energy metabolism, processing nutrients like protein, fat, carbohydrates and alcohol that have calories, to a form of energy tha the body can use. Riboflavin is an essential vitamin.
Niacin (B3)
Is required for cell respiration, helps in the release of energy and metabolism of carbohydrates, fats,
Vitamin B6 (Pyridoxine)
Is one of eight water-soluble B vitamins. They help the body to convert carbohydrates into glucose (sugar), which is "burned" to produce energy. These vitamins, often referred to as the B complex, are also essential in the metabolism of fats and protein. They also play an important role in maintaining muscle tone in the gastrointestinal tract and promoting the health of the nervous system, skin, hair, eyes, mouth, and liver.
Vitamin B12 (Cyanocobalamin)
Is a water-soluble vitamin needed for normal nerve cell activity, DNA replication, and production of the mood-affecting substance SAMe (S-adenosyl-L-medthionine). Vitamin B12 acts with folic acis and vitamin B6 to control homocysteine levels. Vitamin B12 deficiency causes fatigue. Studies have shown that vitamin B12 supplementation may also increase energy in those not vitamin B12 deficient.
Vitamin B5 (Pantothenic Acid)
Is a water-soluble, anti-stress vitamin and stamina enhancer. This vitamin plays an important role in production of adrenal hormones. It is required for the formation of antibodies (immune system), and helps to convert carbohydrates, fats and proteins into energy.
FAQ'S
When is it beneficial to take Kickbutt Amped Energy Ballz?
We recommend 1 or 2 ballz per serving (depending on your weight and metabolism)
Missed your morning coffee? Take 2 ballz to start your day.
10 - 15 minutes before your workout
When driving – to help you stay alert
At work in the afternoon when you "hit the wall"
How do Kickbutt Ballz enhance my workout experience?
Each ball contains caffeine equivalent to 1/2 cup of coffee with the added benefit of protein and vitamins.
Increase stamina and endurance (complex carbs, herbs)
Increase endurance, muscle and bone strength (whey protein isolates)
Preserve muscle mass (creatine)
Reduce fatigue (amino acids)
Speed up recovery time (energizing vitamins)
Carefully calibrated caffeine enhancement adds the extra kick to round out our amped energy profile.
How do Kickbutt Ballz differ from energy drinks and energy bars?
Kickbutt Amped Energy Ballz combine energy ingredients with natural nutritional components to provide instant and sustained energy with added nutrition. Energy drinks deliver high amounts of caffeine, taurine and herbal stimulants in a highly sugared liquid, which can make you feel jittery and tense – and sometimes have a "crash" after-effect. Energy bars are strictly meal-replacement or nutrition products with little instant energy stimulus.
Worried about caffeine? Don't...
Kickbutt Amped Energy Ballz only contain 40 mg of caffeine per ball (approximately the same amount as in 1/2 cup of coffee)
KickButt Amped Energy Ballz Purchase Information
Order today using our 100% secure server and get it at the lowest prices in the world with our fast, inexpensive 2-3 day shipping! NOBODY beats our overall price!
20 Ballz

$16.99

$14.99

Flavor
Taste
Availability

Cappuccino

In Stock

Natural Cherry

In Stock

Natural Grape

In Stock
Recommended For You
More Info
MusclePharm Presents:
Pre-Workout Formula for Energy, Focus, Strength, and Endurance*
More Info
MuscleTech Presents:
Fuel Muscles, Reduce Protein Breakdown, and Enhance Muscular Endurance*
Do You Use This Product?
KickButt:
Amped Energy Ballz
20 Ballz

$16.99

$14.99

Flavor
Taste
Availability

Cappuccino

In Stock

Natural Cherry

In Stock

Natural Grape

In Stock
Manufacturer information:
This works well with:
What's in KickButt Amped Energy Ballz?
20 Ballz

Cappuccino

Supplement Facts

Serving Size

1

Ball

0.35 Oz (10g

)

Servings Per Container

20

Amount Per Serving

% DV

Calories

35

Total Fat

0

g

Trans Fat

0

g

Total Carb

4

g

1%

Fiber

<

1

g

3%

Sugars*

3

g

Protein (Whey + Whey Isolates)

3

g

6%

Vitamin C (Ascorbic Acid)

12.5

mg

21%

Riboflavin (Vitamin B2)

1.5

mg

88%

Niacin (Vitamin B3)

12.5

mg

63%

Vitamin B6

4

mg

200%

Vitamin B12

4

mcg

67%

Pantothenic Acid

8.5

mg

85%

Proprietary Blend* (Caffeine Anhydrous, Guarana (Seed) Extract, Creatine Monohydrate, Asian Ginseng (Root), Taurine, D-Ribose (Ribose) ).

Percent Daily Values (DV) are based on a 2000 calorie diet.

* Daily Value not established
Other Ingredients:

Whey Protein

, Brown Rice Syrup

, Cane Sugar

, Sunflower Oil

, Semisweet Chocolate (Sugar

, Unsweetened Chocolate

, Cocoa Butter

, Lecithin

, Natural Vanilla Extract)

, Whey Protein Isolate

, Water

, Brown Rice Flour

, Maltodextrin

, Honey

, Caramel

, Cocoa Powder

, Natural Flavor

, Lemon Juice

, Natural Coffee Flavor, Natural Vanilla Flavor

, Tapioca Dextrin

, Cinnamon

, Glycerin, Lecithin

, Natural Orange Flavor, Caramel Color

, Carnauba Wax Palm

, Confectioners Glaze.

Allergen Statement: Contains: Milk.
Directions For Amped Energy Ballz: Take 1-2 ballz before physical activity, driving, or feeling tired and need a boost. Maximum of 10 ballz per day. Store at room temperature.
Warnings: Consult your health care practitioner if you are pregnant or breastfeeding. Do not use if you are sensitive to caffeine. Do not use if packaging is broken.
* These statements have not been evaluated by the Food and Drug Administration. This product is not intended to diagnose, treat, cure, or prevent any disease.