24/7 Customer Service 1-866-236-8417
Jay Cutler Elite Series:

Amino Pump
Non-Stimulant Formula!
Clinically Researched Ingredients For Muscle Development And Recovery!*
Supported Goal: Post-Workout Recovery
Main Ingredient: Creatine Monohydrate
Jay Cutler Elite Series Amino Pump Product Guide
ADVANCED
MUSCLE BUILDING
AMINO PUMP
FORMULA
Clinically Researched
Ingredients for muscle
Development & Recovery
None-Stimulant Formula.
Take Anytime Of The Day.
"This is a "Must Have"
For Your Strength
And Muscle
Building Program"
- Jay Cutler -
ATHLETES & BODYBUILDERS*†

HIGH INTENSITY TRAINING*†

DIETING*†

EVERYONE AND ANYONE LOOKING WHO TRAINS*†
TO LOOK AND FEEL BETTER*†
If you're training hard you need the proper nutrients to support optimal muscle recovery and growth. AMINO PUMP™ is an advanced multi-functional amino-based formula created to help initiate muscle building results.*†
Lean Muscle Growth*†

Increased Muscle
Recovery*†
Resistance To Muscular
Fatigue*†
Reduction In Muscle
Breakdown*†
CAN BE TAKEN ANYTIME,
DAY OR NIGHT!
It starts with 3-grams per serving of Creatine, the most researched muscle building supplement on the planet. It also includes L-Leucine, Beta-Alanine (CarnoSyn®), and Agmatine.
When you look at this formula top-to-bottom, it's clear that it is based on clinically researched HARCORE compounds – making it a must have for any bodybuilder. Specifically, AMINO PUMP™ can be utilized by strength and professional athletes, as well as for high-intensity training, and dieting among other applications.*†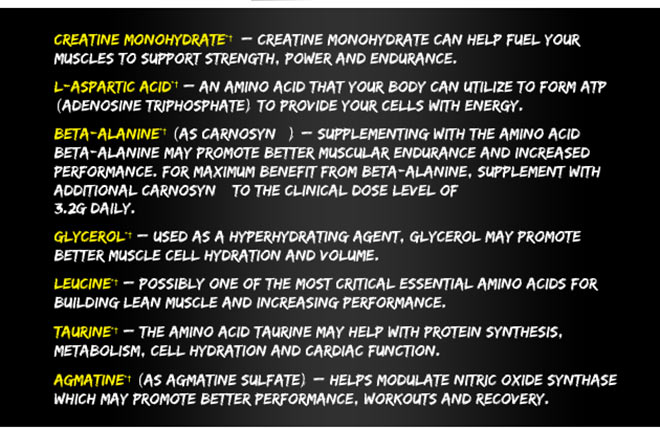 The Jay Cutler Elite Series™ Brand is handcrafted,
precision based, and ultra defined for
bodybuilders, elite athletes, and results driven
enthusiasts. We believe it to be the Best of
the Best. Like all products in the Jay Cutler Elite Series™,
100% Pure Muscle Mass™
utilizes research-based, tested and tried ingredients,
manufactured under strict guidelines.
All of these products are drug-free, and each and every
one meets Jay Cutler's personal
standards of performance.
† When combined with a proper exercise and nutrition regimen. Statements based on early-stage independent 3rd party in vivo and / or in vitro model scientific research data findings for individual ingredients.
Jay Cutler Elite Series Amino Pump Purchase Information
Order today using our 100% secure server and get it at the lowest prices in the world with our fast, inexpensive 2-3 day shipping! NOBODY beats our overall price!
285 Grams

$48.95

$28.97

Flavor
Taste
Availability

Blue Lemonade

In Stock

Fruit Punch

In Stock
Recommended For You

More Info
Dymatize Presents:
High Quality Protein, Loaded with Muscle Fuel and a New Improved Taste*
Do You Use This Product?
Jay Cutler Elite Series:
Amino Pump
285 Grams

$48.95

$28.97

Flavor
Taste
Availability

Blue Lemonade

In Stock

Fruit Punch

In Stock
Manufacturer information:
This works well with:
What's in Jay Cutler Elite Series Amino Pump?
Serving Size 1 Scoop

Servings Per Bottle

30

Amount Per Serving

% Daily Value

AMINO PUMP™ MATRIX (Proprietary blend)

8,100 mg

      

Creatine (as creatine monohydrate & CreaPure®)

**

L-Aspartic Acid

**

Beta-Alanine (as CarnoSyn®)

**

Glycerol (as glycerol monostearate)

**

L-Leucine

**

Taurine

**

Agmatine (as agmatine sulfate)

**

** Daily Value Not Established

Other Ingredients:

Silica

, Natural And Artificial Flavors

, sucralose

, Citric Acid

, Malic Acid

, and FD&C Blue No. 1

Mr. Olympia® is a trademark of Mr. Olympia, LLC, all rights reserved.

CreaPure® is a registered trademark of AlzChem Trostberg GmbH, Germany, US Reg. No 2715915.
Directions For Amino Pump: Take one (1) serving (1 scoop) blended into 8oz (236 mL) of ice cold water, either before, during, or after workout, or as directed by a qualified healthcare practitioner. On non-training days, take one (1) serving (1 scoop) first thing in the morning, on an empty stomach, or as directed by a qualified healthcare practitioner.
Warnings: Not intended for use by persons under age 18. Do not exceed recommended dose. Get the consent of a licensed physician before using this product, especially if you are taking medication, have a medical condition, you are pregnant, nursing or thinking about becoming pregnant. KEEP THIS PRODUCT AND ALL SUPPLEMENTS OUT OF THE REACH OF CHILDREN.
* These statements have not been evaluated by the Food and Drug Administration. This product is not intended to diagnose, treat, cure, or prevent any disease.