24/7 Customer Service 1-877-991-3411
Infinite Labs:

Agmatine
Ergogenic Support!*
May Help Inhibit Nitric Oxide Synthase!*
Supported Goal: Build Muscle
Main Ingredient: Agmatine
Infinite Labs Agmatine Product Guide
LIMITED TIME OFFER! For a limited time, buy 2 Infinite Labs Agmatine & get 1 FREE! Hurry while supplies last! Click the Order button next to the promotional option OR manually add 3 items to your cart and a discount for the third item will automatically be applied.
See Store Discounts and Discounted Subtotal at the bottom of the cart.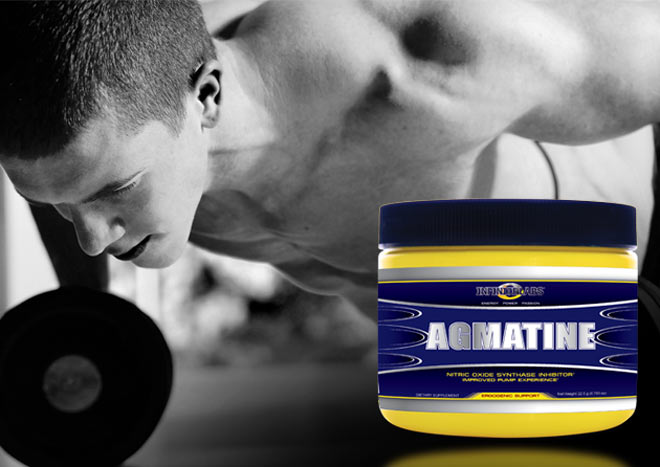 Defining Agmatine: Arginine vs. Agmatine
Agmatine (4-aminobutyl) guanidine, NH2-CH2-CH2-CH2-CH2-NH-C(-NH2)(=NH)), is a byproduct of the amino acid Arginine and acts as an intermediate in polyamine biosynthesis. It is generated through a process referred to as decarboxylation which is a chemical reaction that releases carbon dioxide (CO2); it is essentially Arginine with the carboxylic acid end eliminated. Agmatine is synthesized in the brain, stored in synaptic vesicles, collected by uptake, discharged by membrane depolarization, and inactivated by agmatinase.
Playing a large role in the production of Nitric Oxide (NO), Arginine has been labeled as a big Growth Hormone (GH) releaser and utilized by athletes and bodybuilders around the world. Along with GH production, Arginine is suggested for its capacity to stimulate protein synthesis, promote the endogenous production of creatine, support insulin sensitivity via attenuation of blood glucose, as well as its assistance during the removal of nitrogenous waste in the urea cycle.* It has even been suggested to help support general health.*
Until recently, Arginine has been labeled as a "go to" supplement in many athletic and bodybuilding regimens. However, with the growing literature and knowledge on the potential ergogenic value of Agmatine, athletes are beginning to gear their supplementation needs in a new direction. Agmatine is likely the one molecule to take part in more metabolic processes than Arginine.* There exists nineteen well-documented mechanisms of action suggested in the research and a minimum of thirteen possible direct benefits to the athlete or bodybuilder with even more effects emerging as the research continues.*
The benefits of Agmatine include promoting muscle pumps, nutrient transport, nutrient partitioning (greater number of calories shunted towards muscle tissue and less stored in fat cells), increased blood flow, and supporting the production of luteinizing hormone and growth hormone.* Agmatine appears to boost muscle pumps in various ways:
Agmatine may enhance nutrient partitioning, which leads to more muscle glycogen (carbohydrates stored in muscle tissues) stored, thus more water retained in the muscle. This can lead to a "fuller" look to the muscle and enhanced muscle pumps.*
Agmatine appears to increase NO production by playing a competitive inhibitor role of the enzyme nitric oxide synthase. The nutrient partitioning effects of Agmatine may be due to its potential ability to support the insulin response to carbohydrates, as well as the increased blood flow to the muscle seen with increased nitric oxide production.* Agmatine may play a potential role in the hypothalamic control of luteinizing hormone (LH) and GH release, thusly supporting healthy levels of both hormones.*
Agmatine as an Ergogenic Aid
Agmatine supports insulin production which may help promote post workout insulin response.* Insulin response has been suggested to have positive effects on body composition and musculature.*
Agmatine may help support positive mood, which may be beneficial in the heavy loading and high-stress life of a bodybuilder.*
Agmatine acts on catecholamine release (Epinephrine > Norepinephrine > Dopamine). These endogenous compounds are utilized in almost every action throughout the human body. Specific to the athlete is the role in energy production and mood support.*
Agmatine may help support healthy kidney function via stimulation of the glomerular filtration rate (GFR).* This may benefit the bodybuilder as various nitrogenous waste products are eliminated through this system.*
Agmatine serves as a potential aid in the recovery process of the athlete*.
Agmatine may help support GH and LH production.*
Agmatine may help promote NO through a variety of mechanisms.* It may promote some types of nitric oxide synthase (NOS) while restraining others.* This is crucial to the proper functioning of the polyamine biosynthetic pathways.*
Specific to body composition, Agmatine may have an independent role of testosterone and insulin management on lipid (fat) metabolism.*
Agmatine may possess antioxidant properties.* This is of particular interest to the committed athlete. The load an athlete endures throughout a strict training regimen directly affects the free-radical buildup in the human body and may have damaging effects if the buildup continues. Agmatine may promote anti-oxidant activity.*
Agmatine acts as a "novel" neurotransmitter and may help support a healthy mood.* This may be beneficial to those looking to achieve a mental edge, whether it be in the gym or in everyday life.*
Agmatine holds a hypotensive role which could assist the exogenously-enhanced athlete in regulating blood pressure already within the healthy range.*
As a result of these effects, supplementing any athletic and/or bodybuilding regimen with Agmatine may support athletic performance and fat loss, as well as promoting muscle size, vascularity, and fullness.* Other potential benefits include protection against free radical damage, mood support, and enhanced recovery; adding to the quality of everyday life.* Arginine was the "miracle worker" of its time, but Agmatine may be an even better supplemental option in regards to body physique advancements and performance support.*
References
Gao, Y., et al. Agmatine: a novel vasodilator substance. Life Sciences. 57(8):PL83-86, 1995.
Halaris A, Piletz JE. Imidazoline receptors Hum Psychopharmacol. 16(1):65-69, 2001.
Kalra, S.P., et al. Agmatine, a novel hypothalamic amine, stimulates pituitary luteinizing hormone release in vivo and hypothalamic luteinizing hormone-releasing in vivo. Neuroscience Letters. 194 (3): July 21, 1995; 165-168.
Morgan, N.G., et al. Characterization of the imidazoline binding site in regulation of insulin secretion. Annals of the New York Academy of Sciences. 763:361-373, 1995.
Nishimura K, Shiina R, Kashiwagi K, and Igarashi K. Decrease in Polyamines with Aging and Their Ingestion from Food and Drink. J of Biochem. 139(1):81-90, 2006.
Raasch, W. et al. Agmatine, the bacterial amine is widely distributed in mammalian tissues. Life Sciences. 56(26):2319-2330, 1995.
Raghavan SA, Dikshit M. Vascular regulation by the L-arginine metabolites, nitric oxide and agmatine. Pharmacol Res. 49(5):397-414. Review, 2004.
Yananli H, Goren MZ, Berkman K, Aricioglu F. Effect of agmatine on brain l-citrulline production: A microdialysis study in nucleus accumbens. Brain Res. 2007 Feb 9;1132(1):51-58, 2006.
Zarandi M, Serfozo P, Zsigo J, Deutch AH, Janaky T, Olsen DB, Bajusz S, Schally AV. Potential agonists of growth hormone-releasing hormone. II. Pept Res. 5(4):190-3, 1992.
Zhu MY, Wang WP, Cai ZW, Regunathan S, & Ordway G. (2008). Exogenous agmatine has neuroprotective effects against restraint-induced structural changes in the rat brain. The European Journal of Neuroscience. 27(6), 1320-32.


Infinite Labs Agmatine Purchase Information
Order today using our 100% secure server and get it at the lowest prices in the world with our fast, inexpensive 2-3 day shipping! NOBODY beats our overall price!
30 Servings

$30.99

$18.99

Unflavored

In Stock
30 Servings

$92.97

$37.98

Unflavored

In Stock
Recommended For You
More Info
SmartShake Presents:
The World's Smartest Shaker With 2-3 Storage Compartments!

More Info
Optimum Presents:
Natural Overall Health Support for a Healthy Heart and Joints!*
Do You Use This Product?
30 Servings

$30.99

$18.99

Unflavored

In Stock
30 Servings

$92.97

$37.98

Unflavored

In Stock
Manufacturer information:
This works well with:
What's in Infinite Labs Agmatine?
30 Servings

Unflavored

Supplement Facts

Serving Size

1

Scoop

(750

mg)

Servings Per Container

30

Amount Per Serving

% DV

Agmatine Sulfate

750

mg

†

† Daily Value not established
Directions For Agmatine: As an adult dietary supplement, take 1 serving mixed with 4 to 6 ounces (120-180 mL) of water 30 minutes prior to training. Optimal intake may be 1 serving twice a day.
NOTE: Because contents may settle during shipment, one should shake container before use. As moisture and humidity can cause clumping and discoloration, shake and stir contents before each use.
Warnings: Not for use by anyone under the age of 18. Consult your physician before using this or any dietary supplement or if you have, or have a family history of, including but not limited to; high blood pressure, cardiac arrhythmias, heart, liver, kidney, thyroid, or psychiatric disease, diabetes, asthma, recurrent headaches, aneia, peptic ulcers, difficulty in urinating, prostate enlargement, or seizure disorder, or if you are using a monoamine oxidase inhibitor (MAOI), prescription drug, or over-the-counter drug. DO NOT USE IF PREGNANT OR NURSING. Discontinue use and contact your health care provider if you experience any adverse reaction. Use in conjunction with a sensible diet and exercise. Store in a cool dry place. Keep Out Of Reach Of Children.
* These statements have not been evaluated by the Food and Drug Administration. This product is not intended to diagnose, treat, cure, or prevent any disease.