24/7 Customer Service 1-877-991-3411
Infinite Labs:

Infinite Mass
The Hard Gainers Protein!
Increased Muscularity And Density!*
Supported Goal: Build Muscle
Main Ingredient: Whey Protein
Infinite Labs Infinite Mass Product Guide
LIMITED TIME OFFER! For a limited time, buy 1 Infinite Labs Infinite Mass, 6.3 Lbs. in the flavor of your choice & get 1 Infinite Labs Dagger Shaker Cup, 28 Oz. FREE! Hurry while supplies last!

Purchase the item above and the promotional item will automatically be added to your cart at no charge.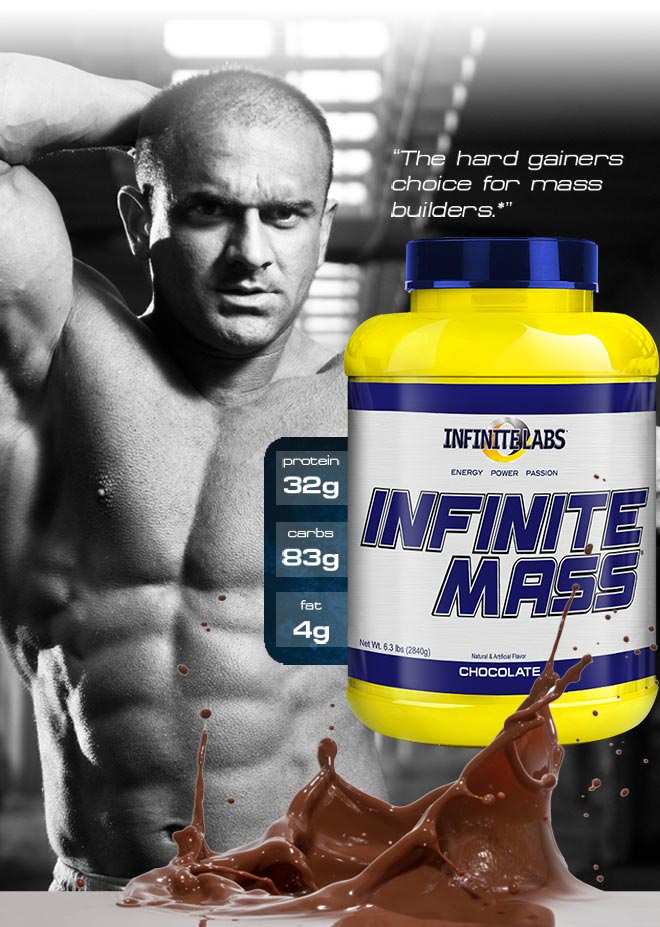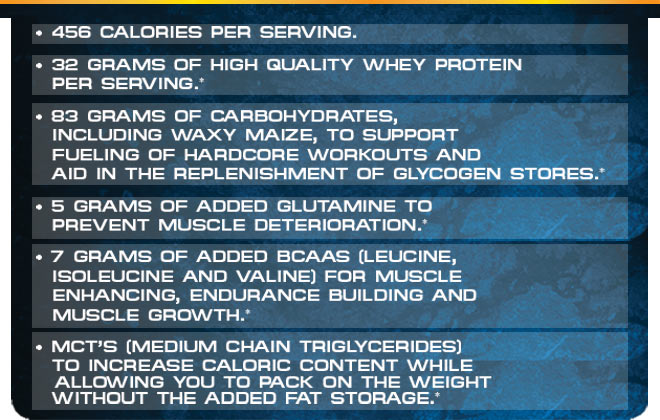 WHAT IS INFINITE MASS™?
Are you ready to trigger massive gains in size and strength? Infinite Mass™ gives you the proper amount of carb/protein/fat ratio in each serving to help increase your caloric intake more efficiently.
Formulated with a precise blend of 32 grams of high quality whey protein, 83 grams of complex carbohydrates (including waxy maize), Glutamine, BCAAs, and essential nutrients, Infinite Mass™ may support anabolic action via increased protein synthesis and nitrogen retention, accelerated glycogen synthesis and improved cell volumization.*
START BUILDING MUSCLE FAST WITH INFINITE MASS™
Need to pack on more muscle? For many who are striving to be bigger and aiming to promote a faster metabolism, having a weaker appetite and a busy lifestyle can make consuming enough calories through food alone a big challenge.*
When trying to gain mass, not following through with the proper nutrition is one of the biggest mistakes an athlete can make. Having an understanding of what training does to the body is critical. During exercise whether you are bodybuilding, power-lifting, or strength training, muscle tissue is being broken down. In order for your muscles to recover, repair, and grow, your body needs carbohydrates, protein, fats and essential nutrients.*
The body needs fat to survive and thrive. Fat plays an essential role in hormone production, which in turn is responsible for growth and strength increases. Hard Gainers will benefit from the added medium chain triglycerides in Infinite Mass™. Infinite Mass™ also increases caloric content in any quest to developing a strong, solid, muscular physique without any added fat storage.*
CARBOHYDRATES supply the body with the energy it needs to function and help your muscles absorb protein more efficiently.* They are the main source of blood glucose which is the major fuel source for all the body's cells and the only source for the brain and red blood cells. Glucose can be obtained and stored easily in the body, but when your body is depleted of carbohydrates, glucose is extracted from protein. Simply put, if you're not eating enough carbohydrates your body will start to break down precious muscle tissue for glucose. Each serving of Infinite Mass™ has over 83 grams of complex carbohydrates (including waxy maize) for accelerated glycogen synthesis - giving you larger, fuller and rounder muscles.*
PROTEIN is not only a vital building component for muscle tissue, but it also plays a major role in your daily performance. By being a direct precursor to building muscle and essential amino acids, the content from whey protein will help your muscles grow and recover quicker. Whey Protein is also responsible for synthesizing anabolic hormones such as insulin, growth hormone and IGF-1.* Infinite Mass™ gives you 32 grams of high quality whey protein. Thus, to help boost anabolism and reduce muscle breakdown immediately following a workout you want to load your muscles with Infinite Mass™.*
Not all proteins are created equal.
Bio-availability represents the percentage or scale rating of how much your body can assimilate certain protein sources. Your body and digestive systems absorb some proteins better than others and also certain sources will provide a higher amino acid profile.


Infinite Labs Infinite Mass Purchase Information
Order today using our 100% secure server and get it at the lowest prices in the world with our fast, inexpensive 2-3 day shipping! NOBODY beats our overall price!
6.3 Lbs.

$59.99

$42.99

Flavor
Taste
Availability

Chocolate

9.3
In Stock

Vanilla

9.5
In Stock
Recommended For You
More Info
SmartShake Presents:
The World's Smartest Shaker With 2-3 Storage Compartments!

More Info
Optimum Presents:
Natural Overall Health Support for a Healthy Heart and Joints!*
Do You Use This Product?
Infinite Labs:
Infinite Mass
6.3 Lbs.

$59.99

$42.99

Flavor
Taste
Availability

Chocolate

9.3
In Stock

Vanilla

9.5
In Stock
Manufacturer information:
This works well with:
What's in Infinite Labs Infinite Mass?
6.3 Lbs.

Chocolate

Supplement Facts

Serving Size

4

Scoop

(142

g)

Servings Per Container

20

Amount Per Serving

% Daily Value†

Calories

456

Calories From Fat

36.4

Total Fat

4

g

6%

Saturated Fat

0.7

g

3%

Trans Fat

0

g

Cholesterol

19

mg

6%

Sodium

325

mg

14%

Potassium

338

mg

10%

Total Carbohydrate

83

g

28%

Sugars

16

g

**

Protein

32

g

64%

Glutamine

5

g

**

Magnesium

50

mg

Branched Chain Amino Acid Blend

(L-Leucine, L-Valine, L-Isoleucine)

**

Vitamin A

21.5

IU

0.4%

Vitamin C

0

0%

Calcium

509.9

mg

51%

Iron

0.29

mg

4%

Not a significant source of dietary fiber

† Percent Daily Values are based on a 2,000 calorie diet. Your values may be higher or lower depending on your calorie needs.

** Daily Value not established
INGREDIENTS:
Maltodextrin
, Milk Protein Concentrate
, Non Fat Dry Milk
, Cocoa
, Whey Protein Concentrate
, Waxy Maize Starch
, L-Glutamine
, Non-Dairy Creamer
, Natural And Artificial Flavors
, Xanthan Gum
, Salt
, Sucralose
, Acesulfame Potassium
, Medium-Chain Triglycerides.
Directions For Infinite Mass:
Add four level scoops of Infinite Mass with 16-24 oz. of water. Shake well. If desired, mix in blender, add ice cubes and other calorie-contributing ingredients and blend for an additional 30-45 seconds.
TIPS: Mixing four scoops of Infinite Mass™ with 16-24 oz. of low fat milk instead of water will give you a thicker, creamier, higher-calorie shake. Begin with 1/2 a serving and gradually increase to 1 full serving several times a day according to your own muscle building or weight gaining program.
Between Meals: Drink 1/2-1 serving of Infinite Mass™ between meals to maintain positive nitrogen balance and support a high-calorie diet.
Post-Workout: Begin drinking 1/2-1 serving of Infinite Mass™ immediately after training (recovery period) to produce bigger gains in muscle fiber thickness.
Before Bed: Drink 1/2-1 serving of Infinite Mass™ about 45-60 minutes before bed to provide nutrients to recovering muscle throughout the night.
NOTE: For best results use Infinite Mass™ combined with intense weight training (3-5 times per week) and a sensible diet. Also, keep in mind that sufficient recovery between workouts impacts your ability to gain lean mass. Allowing at least 48 hours between workouts involving the same body part is recommended.
Warnings: Keep Out Of Reach Of Children as with any dietary supplement, if pregnant or nursing, consult your physician before using.
* These statements have not been evaluated by the Food and Drug Administration. This product is not intended to diagnose, treat, cure, or prevent any disease.