24/7 Customer Service 1-866-236-8417
Recent Searches
Clear Recent Searches
GRIPAD:

Weight Lifting Gloves
Get A Grip!
Never Deal With Sweat While You Try To Maintain A Firm Grip While Working Out!
GRIPAD Weight Lifting Gloves Product Guide
PROMOTION
PROMOTION

Order & Save 15%

Order and automatically receive a 15% discount at checkout on GRIPAD Weight Lifting Gloves, in Select Colors!

View applied savings in cart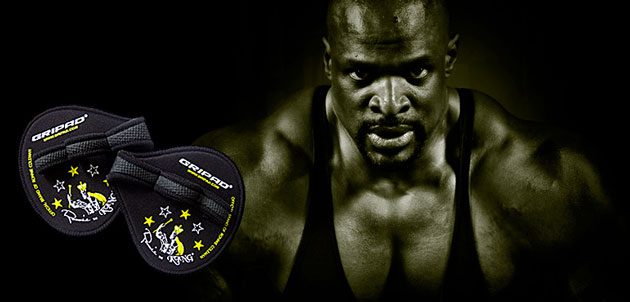 Ronnie The King®
INTRODUCING RONNIE COLEMAN GRIPADs
Official brand of Ronnie Coleman, 8-time Mr. Olympia and bodybuilding legend.
GRIPAD® Weight Lifting Gloves is a new and improved accessory for weightlifting and general fitness exercises which provides better protection and comfort for your hands. It utilizes innovative materials and patented design, delivering superior performance compared to the conventional workout gloves.
Thanks to GRIPAD® Weight Lifting Gloves, you no longer have to deal with your hands breaking sweat as you try to maintain a firm grip while working out!
Are you tired of calluses and blisters? Do you suffer from smelly, sweaty hands? Do your Weight Lifting Glovesstain your hands? Can´t find Gym Gloves that fit your hands? - Introducing the new patented GRIPAD® Weight Lifting Gloves!- Say goodbye to hot, sweaty Workout Glovesand hello to callus free hands to match your sculpted body!
GRIPAD® Weight Lifting Gloves provide minimal coverage of your hands while maximizing protection! The cushioning Weight Lifting Gloves are secured to the palm of the hands with finger bands that stretch to fit most. Made of neoprene, GRIPAD® Weight Lifting Gloves provide a firm and comfortable grip while preventing calluses, heat, and odor usually associated with regular Workout Gloves.
GRIPAD Weight Lifting Gloves Purchase Information
Order today using our 100% secure server and get it at the lowest prices in the world with our fast, inexpensive 2-3 day shipping! NOBODY beats our overall price!
$16.99

$14.95

Pink

In Stock
$16.99

$14.95

Size
Availability

Black

In Stock

Navy Blue

In Stock

Red

In Stock
Recommended For You
Do You Use This Product?
GRIPAD:
Weight Lifting Gloves
$16.99

$14.95

Pink

In Stock
$16.99

$14.95

Size
Availability

Black

In Stock

Navy Blue

In Stock

Red

In Stock
Manufacturer information: