vasodilators
UNUSED CATEGORY Guide
Introduction To Vasodilators
Watch this quick video to get the scoop on vasodilators!
Volumize Your Veins
VASODILATORS FOR VASCULARITY*
Are you looking to compete in a show or just display the body you've been working for? Then take things up a notch by adding a vasodilator to your stack. They are designed to promote wide and full blood vessels to really emphasize how pumped you are.* Vasodilators also encourage oxygen flow, making them great during training for fast recovery.*
Some vasodilators can be rubbed on the skin or taken orally to fit your pump preferences and turn your body into a veinous roadmap.* Most vasodilators use nitric oxide precursors like Arginine and Citrulline to boost healthy oxygen flow in the blood.*
Vasodilators may increase your body's ability to delivery blood to working muscles. Vasodilation helps your muscle to be fuller, increase vascularity and get a better pump in the gym.*
To find more information on vasodilators, use the product finder to handpick items by price, serving size, brand name and much more!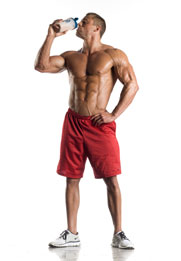 All UNUSED CATEGORY Products
* These statements have not been evaluated by the Food and Drug Administration. This product is not intended to diagnose, treat, cure, or prevent any disease.
Categories Index