24/7 Customer Service 1-877-991-3411
Gaspari Nutrition:

Detonate
Thermogenic Amplifier!*
Our First Thermogenic With Dendrobium Extract!
Supported Goal: Lose Fat
Main Ingredient: Phenylethylamine
Gaspari Nutrition Detonate Product Guide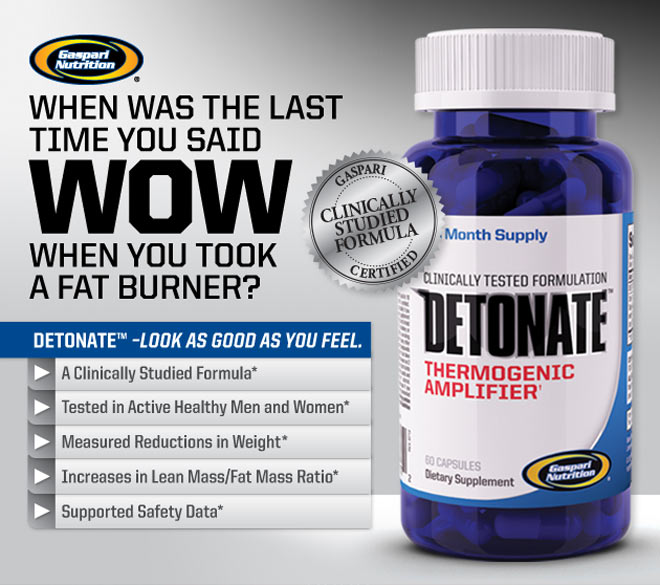 WHEN WAS THE LAST TIME YOU SAID "WOW" WHEN YOU TOOK A FAT BURNER?
Think about it. When is the last time you had full faith in the fat burner you're spending your hard earned money on? Even then, is there any assurance like a clinical study on the formula which says it's safe and effective? Not many companies out there can answer these questions for you in confidence until Detonate.
Rarely is such pure innovation presented with unrivaled effectiveness that's been clinically studied. We welcome the question "is it legit?" or "does it work?" Hell yeah it works. Detonate is the real deal ladies and gentlemen and is far beyond just another over caffeinated version of everything else out there on the market.
CLINICAL STRENGTH PERFORMANCE YOU'LL FEEL RIGHT AWAY*
Detonate is clinically studied and science-backed. This is not another "me too" formulation relying on the usual suspects to drive its effectiveness. This isn't a "concentrated" formulation either. This is just pure raw energy that has an undeniable "WOW" factor that only needs to be taken once in the morning.
Once you try Detonate, you'll know exactly what we're talking about. The sensory experience is truly amazing and you'll feel it right away. Gaspari Nutrition is known for its innovation and Detonate is just more proof of why we have a reputation of making some of the best products around the world. You expected it and we delivered it!
DETONATE vs. THE COMPETITION
DETONATE

LEADING
COMPETITOR #1

LEADING
COMPETITOR #2

JUST THE FACTS

DMAA (AKA 1,3 DIMETHYLPENTYLAMINE) FREE
YES

NO

YES

DMAA is old news now and is under heavy scrutiny around the world. Gaspari Nutrition felt it was best to head in a different direction with the Detonate formulation. We feel our formulation is more effective than any DMAA product that has been on the market.

UNLEASHES THE POWER OF DENDROBIUM EXTRACT
YES

NO

NO

Dendrobium extract in key ratios with other ingredients in Detonate destroy DMAA and the old school stimulants like yohimbine and synephrine.

CLINICALLY STUDIED
YES

YES

NO

Currently Detonate has two clinical studies to support it. The first is on the stimulant complex alone and the second is on the entire formula. Both studies suggested safety and effectiveness.* These aren't cherry picked studies but full blown clinicals on active and healthy adults.

RODENT STUDY BASED CLAIMS
NO

YES

NO

Detonate bases its claims on real human research and not furry little animals.
FREQUENTLY ASKED QUESTIONS
What type of results can I expect from DETONATE?
From the first dose, you'll notice a strong stimulant and sensory effect.* Our clinical studies have demonstrated support for weight loss and lean body mass recomposition over a four week period when following the directions correctly.*
Is the DETONATE formula based on real human clinical trials?
Yes, Detonate has two clinical trials to support its formulation and safety. Gaspari Nutrition is well known for its 3rd party clinical trials and many more are planned in the future to better serve you by providing accurate claims.
Can I stack DETONATE with other products?
Yes. DETONATE stacks well with BCAA products like AminoLast, Myofusion Probiotic Series, etc. It should not be taken with other products that contain stimulants such as caffeine.
How do I take DETONATE?
Take 1-2 capsules on an empty stomach before breakfast. Due to the potential potency, begin by taking 1 capsule before breakfast for the first three days and add 1 capsule before breakfast should the need arise. Please DO NOT USE THE PRODUCT FOR LONGER THAN 4 WEEKS FOLLOWED BY A 4 WEEK BREAK. Also, do not exceed more than 2 capsules in a 24 hour period. Detonate is a powerful product so please follow all directions and warnings carefully.
Gaspari Nutrition Detonate Purchase Information
Order today using our 100% secure server and get it at the lowest prices in the world with our fast, inexpensive 2-3 day shipping! NOBODY beats our overall price!
60 Capsules

$66.99

$37.49

In Stock
Recommended For You
More Info
SmartShake Presents:
The World's Smartest Shaker With 2-3 Storage Compartments!

More Info
Optimum Presents:
Natural Overall Health Support for a Healthy Heart and Joints!*
Do You Use This Product?
Gaspari Nutrition:
Detonate
60 Capsules

$66.99

$37.49

In Stock
Manufacturer information:
This works well with:
What's in Gaspari Nutrition Detonate?
60 Capsules

Supplement Facts

Serving Size

1

Capsule

Servings Per Container

60

Amount Per Serving

DETONATE™ Proprietary Blend

700

mg

**

Dendrobium Extract (Stem), B-Phenylethylamine HCL, Tangerine Extract (Fruit), Caffeine Anhydrous, Green Tea Extract (Leaf), Green Coffee Bean Extract, Asian Ginseng (Root), Black Pepper Extract (As BioPerine®) (Fruit).

** Daily Value (DV) not established
Other Ingredients:

Gelatin

, Magnesium Stearate

, Rice Powder

, FD&C Blue No. 1.

Allergen Warning:

This product was manufactured on equipment that processes products that may contain milk, egg, soy, tree nuts, peanuts, wheat, fish, crustaceans and shellfish.
Directions For Detonate: As a dietary supplement, take 1-2 capsules on an empty stomach before breakfast. Due to the potential potency, begin by taking 1 capsule before breakfast for the first three days, and add 1 capsule before breakfast should the need arise. DO NOT USE PRODUCT FOR LONGER THAN 4 WEEKS FOLLOWED BY A SUBSEQUENT 4 WEEK BREAK. DO NOT EXCEED 2 CAPSULES IN ANY 24 HOUR PERIOD. READ THE PRODUCT WARNING BEFORE USE.
IMPORTANT: Consume at least 125 fl. oz. (3,696 mL) of water per day for men and 91 fl. oz. (2,691 mL) of water per day for women while taking this product. EXCEEDING THE RECOMMENDED SERVINGS, NOT FOLLOWING THE DIRECTIONS, OR NOT FOLLOWING THE WARNINGS MAY LEAD TO UNWANTED EFFECTS.
Warnings: This product is only intended to be consumed by healthy adults 18 years of age or older. Pregnant or nursing women should not use this product. Consult with your health care provider before using this product, especially if you are taking any prescription, over the counter medication, dietary supplement product or if you have any pre-existing medical condition including but not limited to: high or low blood pressure, cardiac arrhythmia, stroke, heart, liver, kidney or thyroid disease, seizure disorder, psychiatric disease, diabetes, difficulty urinating due to prostate enlargement or if you are taking a MAO-B inhibitor or any other medication, including but not limited to MAOIs, SSRIs or any other compounds with serotonergic activity. This product contains caffeine and should not be taken by individuals wishing to eliminate this ingredient from their diet. Discontinue use 2 weeks prior to surgery. Do not use in combination with caffeine or any stimulants from other sources whatsoever, including but not limited to, coffee, tea, soda and other dietary supplements or medications. Do not combine with alcohol. Discontinue use and immediately consult your health care professional if you experience any adverse reaction to this product. Do not exceed recommended serving. Do not use if safety seal is broken or missing. This product may contain ingredients banned by certain organizations. User assumes all risks, liabilities or consequences respecting testing. KEEP OUT OF REACH OF CHILDREN. Please store in a cool dry place.
* These statements have not been evaluated by the Food and Drug Administration. This product is not intended to diagnose, treat, cure, or prevent any disease.