EXT Sports Guide
NEW SCIENCE - STRONGEST PRE-WORKOUT
GO™ is a Monumental Muscle Building Pre-Exercise Powder. It is a throwback to the days when "building muscle" was more important than aimless based energy. GO™ is geared towards anyone that wants to power through their training sessions like nothing ever that came before it. Before you even think that GO™ won't get you buzzed, think again. GO™ is an overwhelming Energetic, Muscle Building, "no holds bar" training formula.
POWERFUL CNS STIMULANT - FAT BURNER
STIM 10™ - a selective CNS adipose tissue regulator to promote thermogenic activity.* STIM 10™ is a powerful SUPER THERMOGENIC. It is a superior weight loss compound designed to help burn fat, support healthy body composition, and increase energy.* It is unlike any commercialized fat burner currently available.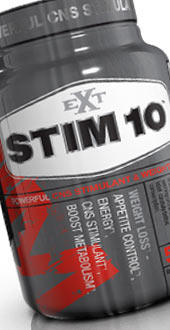 This is the REAL DEAL.
REAL TEST™ is the most sophisticated natural testosterone support formula to date.* It is formulated to work by helping to minimize estrogen activity therefore promoting Testosterone production.* Specifically, this means that the key active constituent is studied for its ability to help keep estradiol, which is the primary female sex hormone, within healthy range.* Moreover, REAL TEST™ couples the anti-estrogenic capability of this novel constituent with a rare extract that has been suggested to promote healthy levels of 17-beta-estradiol and beta-galactosidase.* In addition, REAL TEST™ contains a unique plant extract suggested tohelp support sexual health.*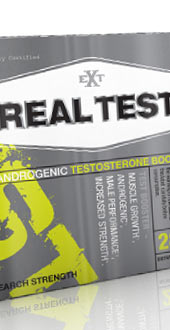 ABOUT US
In a little less than one year, we have been able to develop, procure and harness a set of fundamental sports products geared towards "Extraordinary" RESULTS. EXT Sports represents the hardest, most ground swelling effort by any group of professionals to every develop and brand a new name in sports. EXT Sports is by far and away the most aggressive, scientific and well-founded approach to athletic training and performance.
We have utilized our vast experiences in all aspects of physical and meta-physical training, chemical research and marketing madness to introduce what will quickly be considered a BREAKTHROUGH in the areas of Male and Female Performance.
For anyone who has heard it before, you haven't heard us say it yet "Welcome to EXT Sports."
Go ahead and get in our way and see what happens.
Performance Pre-Training Powder!
Supports Energy, Pump, Muscle, Strength, Definition, Vascularity & Focus!*
Servings: 10
Price Per Serving: $0.88
12% Off
$9.99
$8.79
In Stock
Performance Pre-Training Powder!
Supports Energy, Pump, Muscle, Strength, Definition, Vascularity & Focus!*
Servings: 30
Price Per Serving: $0.93
53% Off
$59.99
$27.95
In Stock
Androgenic Testosterone Support!*
Supports Muscle Growth, Male Performance, & Increased Strength!*
Servings: 28
Price Per Serving: $1.00
44% Off
$49.95
$27.95
In Stock
* These statements have not been evaluated by the Food and Drug Administration. This product is not intended to diagnose, treat, cure, or prevent any disease.