24/7 Customer Service 1-866-236-8417
Dymatize:

Pursuit-Rx All Natural Recovery Blend
Fast-Absorbing!
There's No Better Training Partner!*
Supported Goal: Build Muscle
Main Ingredient: Whey Protein Isolate
Dymatize Pursuit-Rx All Natural Recovery Blend Product Guide
There's No Better Training Partner!
You train hard because you want to see improvement; you squeeze out one more rep and push for new PRs, all to be the best you can be. Yet, one of the most common mistakes that hard-training people make is to fail to replenish their bodies appropriately right after working out.
Pursuit Rx Recovery Blend is the ideal post workout product because it gives you:
Fast-absorbing, high-glycemic carbs to trigger your muscles to receive nutrients.

20g of protein to start immediate muscle repair.

Added L-Leucine to ensure muscle protein synthesis.
See University Study Below.
YOUR AMBITION.
NATURAL NUTRITION.

WOD 1:
FOCUSED ON MUSCULAR AND CARDIOVASCULAR ENDURANCE
AMRAP
800m Run
5 Burpees Plate Jumps
10 kb Swings
15 Air Squats

WOD 1:
FOCUSED ON
ANAEROBIC ENDURANCE
AMRAP
Rowing 500m
40 Wall Balls
30 Push Ups
20 Box Jumps
10 Thrusters
University Proven!
The sport of functional fitness is all about performance through cleaner living, hard work and dedication. So why take a supplement that doesn't support your pursuit of cleaner living by being All Natural? Why take a supplement that doesn't prove performance improvement?
Pursuit Rx is All Natural and tastes great, but we weren't satisfied with that. We wanted to ensure that this line would actually deliver proven performance improvement.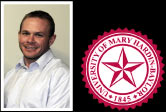 Dr. Colin Wilborn conducted a study where participants of the sport of functional fitness came in to perform two benchmark WODs during Week one.
For the next 6 weeks the test group then took the Pursuit Rx Pre Workout and Recovery Blend products. The results of this study are shown here.
SOURCE: 2013 MARY HARDIN-BAYLOR UNIVERSITY STUDY, AHEAD OF PUBLISHING PURSUIT RX GROUP USED RECOVERY AND PRE WORKOUT.
This is what performance tastes like!
Introducing new, all natural Pursuit Rx, a line of sports nutritional supplements as hardworking and clean as you are. Developed by a team of nutrition experts with over 50 years of experience, these proven products were made using the most up-to-date nutritional science.
And we think that Pursuit Rx will propel you to even faster performance improvement because we have a university study to back it up!* See the center spread for details.
The line includes:
Refreshing Pomegranate Green Tea flavored Pre Workout
Rich Chocolate flavored Whey Protein
Creamy Vanilla flavored Whey Protein
Rich Chocolate flavored Recovery Blend
Odorless Fish Oil gel caps
For best results: Try combining Pursuit RX 100% Whey Protein with the rest of the Pursuit RX line-up: Pre-Workout, Recovery Blend and Fish Oil gelcaps
Sport Certified: Clean and Effective
Dymatize brand has been trusted by the athletic community for two decades. The line has been produced in Dymatize's very own manufacturing facility for years, where we control all aspects of ingredient selection, testing and manufacturing quality. And now, Dymatize also carries the Informed-Choice Trusted by Sport certification that affirms Dymatize uses good manufacturing procedures and confirms that our finished products are free of banned substances.
YOUR AMBITION.
NATURAL NUTRITION.
Currently Unavailable
By submitting your email address you are opting in to receive product notification emails from Bodybuilding.com. Email will be used only for product availability notification. Read ourprivacy policy.
Recommended For You

More Info
Universal Nutrition Presents:
Supports Rigorous Training for All Competitive Strength and Power Athletes*
Do You Use This Product?
Dymatize:
Pursuit-Rx All Natural Recovery Blend
Currently Unavailable
By submitting your email address you are opting in to receive product notification emails from Bodybuilding.com. Email will be used only for product availability notification. Read ourprivacy policy.
Manufacturer information:
This works well with:
What's in Dymatize Pursuit-Rx All Natural Recovery Blend?
Serving Size: 2 Scoops (66.8g)

Servings Per Container

20

Amount Per Serving

% Daily Value*

Calories

250

      

Calories From Fat

5

      

total fat

.5 g

0%

Saturated Fat

0 g

0%

Trans Fat

0 g

0%

Cholesterol

0 mg

0%

Sodium

130 mg

5%

Potassium

290 mg

8%

Total Carbohydrate

40 g

13%

Dietary Fiber

1 g

4%

Sugars

8 g

      

Protein

20 g

40%

Calcium

10%

iron

6%

Not a significant source of Vitamin A or Vitamin C.

*Percent Daily Values are based on a 2,000 calorie diet.

INGREDIENTS:

Identity Preserved Maltodextrin

, Muscle Protein Blend (Whey Protein Isolate

, L-Leucine (Fermented))

, Organic Cane Sugar

, Crystalline Fructose

, Dark Cocoa (processed with Alkali)

, Natural Chocolate Flavor

, Sunflower Lecithin

, Potassium Chloride

, Sea Salt

, Xanthan Gum

, Stevia Leaf Extract

Contains Milk.
Directions For Pursuit-Rx All Natural Recovery Blend: Thoroughly mix Pursuit Rx™ Recovery Blend with 2 level scoops with 8-10 oz. (236-295 mL) of water immediately after a workout. Advanced users: Thoroughly mix 4 level scoops with 16-20 oz. (473-591 mL) of water immediately after a workout.
Warnings: KEEP OUT OF REACH OF CHILDREN
* These statements have not been evaluated by the Food and Drug Administration. This product is not intended to diagnose, treat, cure, or prevent any disease.