Children's Vitamins Guide
Introduction To Children's Vitamins
Watch this quick video to get the scoop on children's vitamins!
Well-Rounded Fitness For Kids
CHILDREN'S VITAMINS FOR DEVELOPMENT
If you're a busy parent worried about your child's nutrition, then put your mind at ease by getting them on quality vitamins and minerals to meet their needs. It's hard to find time to prepare healthy meals every day and make sure to hit all your key ingredients, so supplement your tight schedule with children's vitamins to fortify their nutrition.
Children's vitamins can offer the following great benefits:
Supporting healthy bones*

Encouraging natural energy*

Boosting the immune system*

Promoting healthy development*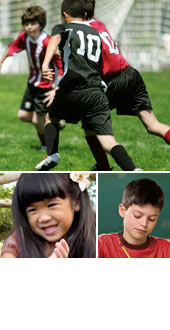 1-5 of

5

Results
---
Sort By:
---
Show:
* These statements have not been evaluated by the Food and Drug Administration. This product is not intended to diagnose, treat, cure, or prevent any disease.
1-5 of

5

Results
---
Sort By:
---
Show:
Categories Index