24/7 Customer Service 1-866-236-8417
Recent Searches
Clear Recent Searches
Cellucor:

L2 Extreme
Water Loss Capsule to Help Shed Excess Water*
Tighten, Tone, & Define Muscle with Mineral Support*
Supported Goal: Contest Preparation
Main Ingredient: Dandelion
Cellucor L2 Extreme Product Guide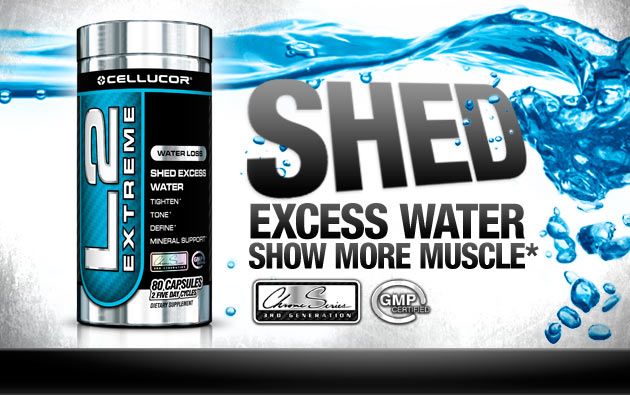 is an always present component in our bodies, stored between the skin and the muscles. Muscle tone and definition are compromised due to water retention: whether it be a photo shoot, competition, wedding, vacation, or simply to kick start a new diet/weight loss plan, you need immediate results, a supplement that delivers the tight, hard look you want, NOW.*

loss requires time; a fusion of hard work and patience, whereas water weight can be shed quickly.*

Cellucor's L2 Extreme is one of the strongest diuretics on the market, quickly ridding the body of excess water weight while supporting the maintenance of sufficient vitamin and mineral levels.*
L2 Extreme contains powerful, natural diuretics that work quickly to support weight loss success and fuel losses of water weight of up to 10 pounds in just 5 days!*
L2 Extreme also provides beneficial antioxidant support, and increases basal metabolism to kick start fat loss.* L2 Extreme is 100% Stimulant-Free, and is designed to work either by itself, or synergistically with Cellucor's weight loss products, D4 Thermal Shock, T7 Extreme, and WS1 Extreme.
PRICKLY CHAFF FLOWER EXTRACT
Prickly Chaff Flower Extract is naturally derived from a shrub that grows throughout India. Prickly Chaff is a strong diuretic that has been suggested to support urinary tract health.*
UVA-URSI EXTRACT
Uva-Ursi is a plant commonly called Bearberry. Uva-ursi extract contains arbutin, a natural compound with strong diuretic properties.*
SUPEROXIDE DISMUTASE (SOD)
Superoxide Dismutase is an enzyme that plays a supportive role in antioxidant protection.* SOD may be an effective antioxidant against superoxide.*
L-TAURINE
L-Taurine is an amino acid that supports healthy blood pressure already within normal range and supports against muscular fatigue.* L-Taurine promotes healthy metabolism and fat cell metabolism, and provides antioxidant support.*
DANDELION EXTRACT
Dandelion Extract contains powerful diuretic compounds called taraxasterols that support the secretion of excess water.* Dandelion is one of the most popular natural diuretics.
MAGNESIUM ASPARTATE
Magnesium Aspartate is a magnesium salt that acts as catalyst in all metabolic reactions that involve ATP (Energy).* Magnesium is an essential mineral necessary for energy production and transport and supports protein synthesis, bone growth, flexibility, and the maintenance of the pH of various organ systems.* L2 Extreme contains Magnesium Aspartate to help support the body's stores—intracellular magnesium loss is a known side effect of diuretic supplements.*
POTASSIUM ASPARTATE
Potassium Aspartate is a potassium salt that is essential for promoting fluid and electrolyte balance throughout the body.* Potassium is an essential mineral responsible for a wide variety of metabolic functions. As an electrolyte, it aids in the maintenance of enzyme structures and fluid balance.*
VITAMIN B6
Vitamin B6 is essential in balancing sodium and potassium levels in the body and also responsible for the production of monamine neurotransmitters such as adrenaline, serotonin, and dopamine.*
FOLIC ACID
Folic acid is a water-soluble B-vitamin that promotes positive mood and healthy energy levels.* Folic acid also supports healthy cell formation and repair.*
Cellucor has set another industry first by drastically improving label transparency. Beginning with the "Chrome Series" line, Cellucor has clearly labeled all key ingredient amounts - no more confusing proprietary blends, no more wondering what you're actually taking. It is our firm belief that greater information accessibility will allow us to deliver greater results.
Cellucor L2 Extreme Purchase Information
Order today using our 100% secure server and get it at the lowest prices in the world with our fast, inexpensive 2-3 day shipping! NOBODY beats our overall price!
80 Capsules

$64.99

$52.99

In Stock
Recommended For You
More Info
Cellucor Presents:
Supports Caloric Burn without Increasing Heart Rate or Blood Pressure*
More Info
Cellucor Presents:
Promotes Increased Caloric Burn, Energy, and Mental Focus*
Do You Use This Product?
80 Capsules

$64.99

$52.99

In Stock
Manufacturer information:
This works well with:
What's in Cellucor L2 Extreme?
80 Capsules

Supplement Facts

Serving Size:

4

Capsules

Servings Per Container:

20

Amount Per Serving

% DV

Diuretic Blend

1300

mg

†

Prickly Chaff Flower Extract, Uva-Ursi Extract, Superoxide Dismutase (SOD), L-Taurine

L2 Extreme Blend

1300

mg

†

Dandelion Extract

1000

mg

†

Magnesium (As Magnesium Aspartate)

100

mg

5%

Potassium (As Potassium Aspartate)

50

mg

5%

Vitamin B6 (As Pyridoxine HCl)

25

mg

1250%

Folic Acid

0.25

mg

63%

† Daily Value (% DV) not established.
Other Ingredients:
Silicon Dioxide
, Magnesium Stearate
, Capsule Shell (Gelatin
, Titanium Dioxide And FD&C Blue #1)
Directions For L2 Extreme: As a dietary supplement for adults, take each serving of 4 capsules with 12-16 ounces of water. Use for 4-5 days at a time, then discontinue use for a minimum of 7 days before retaking the product. Pleast note: We highly recommend drinking a minimum of 6 glasses of water daily. MORNING: Take 4 capsules with food. MID-AFTERNOON: Take 4 capsules with food. Athlete Disclosure: Due to the unique restrictions of amateur and professional sports organizations (WADA, NCAA, NFL, MLB, NBA, UIL, etc.) it is recommended that you consult with the approprate governing body before taking this or any other dietary supplement.
Warnings: DO NOT USE IF PREGNANT OR NURSING. Consult a physician or licensed qualified health care professional before using this product if you have a family history of any medical condition, including but not limited to allergies to the Asteraceae/Compositae family, diabetes, pancreatitis, heart, liver, or kidney disease, GI irritation or if you are using any other dietary supplement, prescription drug, or over-the-counter drug, such as hypoglycemic drugs, lithium, acid-inhibiting drugs or diabetic therapy drugs. Exceeding recommended dosage may cause adverse side effects, including but not limited to weakness, muscle cramps, skin rash, diarrhea, dehydration, dizziness, or joint pain. Discontinue use and call a physician or licensed qualified health care professional immediately if you experience any of the side effects mentioned above.

NOTE: Do Not Exceed Recommended Daily Intake. Use Only As Directed.
* These statements have not been evaluated by the Food and Drug Administration. This product is not intended to diagnose, treat, cure, or prevent any disease.