24/7 Customer Service 1-866-236-8417
Cellucor:

COR-Performance Creatine
Size, Strength, Power!*
Features Fully Disclosed, Clinically Studied Doses Of Creapure, Betaine and Cinnulin PF!
Supported Goal: Build Muscle
Main Ingredient: Creatine Monohydrate
Cellucor COR-Performance Creatine Product Guide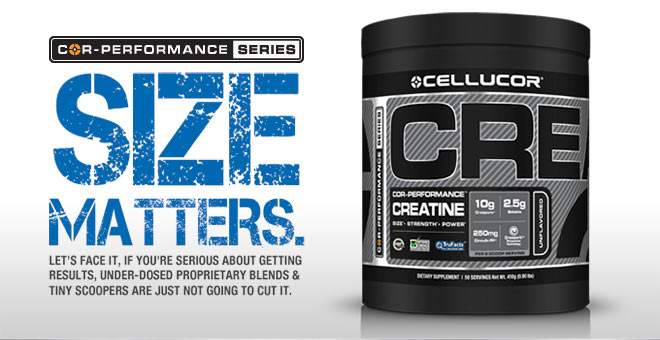 Cellucor COR-Performance™ Creatine is unlike any Creatine product in its class. Featuring fully disclosed, clinically studied doses of Creapure®, Betaine, and Cinnulin PF®, COR-Performance™ Creatine promotes superior size, strength and power in every scoop*
Cellucor COR-Performance™ Creatine features Creasorb®, a revolutionary phosphate delivery system that supports the absorption and effectiveness of Creatine supplementation.*
Unmatched innovation, commodity-class prices, exclusively from Cellucor.
The Cellucor COR-Performance™ Series features premium, innovative formulas you expect from Cellucor in an all-new line up of commodity sports nutrition products.*
Featuring clinically dosed formulas and unmatched flavor systems, the COR-Performance™ Series is designed to satisfy every customer: great formulas, great flavors and great prices. The entire line is Informed-Choice certified and sports a fully disclosed TruFacts™ label.
Because the COR-Performance series is stimulant-free, the products can be added to virtually any stack, and are also compliant with most major athletic organizations.
Cellucor COR-Performance Creatine Purchase Information
Order today using our 100% secure server and get it at the lowest prices in the world with our fast, inexpensive 2-3 day shipping! NOBODY beats our overall price!
330 Grams

$39.99

$29.99

Flavor
Taste
Availability

Blue Raspberry

In Stock

Granny Smith Apple

In Stock
410 Grams

$49.99

$39.99

Unflavored

In Stock
Recommended For You

More Info
Optimum Presents:
Natural Overall Health Support for a Healthy Heart and Joints!*

More Info
Cellucor Presents:
25G Of Protein To Satisfy Protein Needs Any Time Of The Day!
Do You Use This Product?
Cellucor:
COR-Performance Creatine
330 Grams

$39.99

$29.99

Flavor
Taste
Availability

Blue Raspberry

In Stock

Granny Smith Apple

In Stock
410 Grams

$49.99

$39.99

Unflavored

In Stock
Manufacturer information:
This works well with:
What's in Cellucor COR-Performance Creatine?
410 Grams

Unflavored

Supplement Facts

Serving Size

1

Scoop

(8.2

g)

Servings Per Container

50

Amount Per Serving

% DV**

Phosphorus

315

mg

31%

Sodium

290

mg

12%

Potassium

320

mg

9%

Creapure® (Creatine Monohydrate)

5

g

†

Creasorb™

1.77

g

†

Disodium Phosphate

†

Dipotassium Phosphate

†

Betaine Anhydrous

1.25

g

†

Cinnulin PF® (Cinnamon Bark Extract)

125

mg

†

** Percent Daily Values (%DV) are based on a 2,000 calorie diet

† Daily Value not established
Other Ingredients:
Calcium Silicate.
Directions For COR-Performance Creatine: Mix one to two scoops of Cellucor COR-Performance™ Creatine in 8-10 oz. (236-295mL) of juice, water or other beverage of choice, and consume 30 minutes prior to training, or in the morning on non-training days. (For maximum results) Begin with a loading phase of four servings per day for the first five days of product use.
Warnings: This product is only intended for use by healthy adults, 18 years of age or older. Not for use by women who are pregnant or nursing. Do not use this product if you have or suspect you have a medical condition, including but not limited to diabetes or kidney disease, or if you are taking any prescription or over-the-counter medication. Consult a health care provider before using this or any dietary supplement product. Discontinue use and call a health care professional immediately if you experience any adverse reaction to taking this product. Follow label instructions and do not exceed recommendations for suggested use. Keep Out Of Reach Of Children. Store in a cool, dy place.
* These statements have not been evaluated by the Food and Drug Administration. This product is not intended to diagnose, treat, cure, or prevent any disease.