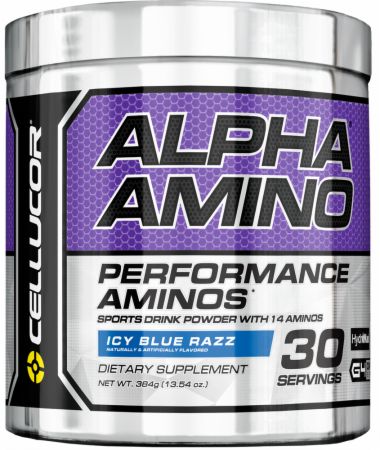 Click here to enlarge
Alpha Amino
Post Workout, Recovery Performance Amino Powder*
Premium Formula to Fuel Endurance, Hydration, and Recovery*
Supported Goal:
Post-Workout Recovery
Main Ingredient:
Amino Acids
25,000,000+
Orders Shipped
Fastest
Shipping
Lowest
Prices

24/7/365
Live Support

Largest
Selection
Product Overview
ENDURANCE* | HYDRATION* | RECOVERY* |
XTREME ENERGY*
BCAAS FOR LASTING ENDURANCE*
Alpha Amino and Alpha Amino Xtreme has 14 Amino Acids including a well-studied 2:1:1 BCAA ratio, which features our proprietary 3X Leucine™ Matrix. BCAAs are known to support muscle maintenance, endurance and recovery, but Alpha Amino/Alpha Amino Xtreme's 3X Leucine™ Matrix takes the power of BCAAs one step further.* 3X Leucine™ includes instantized L-Leucine, Leucine Nitrate and Leucine Peptides to enhance the body's ability to fuel skeletal muscles, preserve muscle glycogen stores and reduce protein breakdown.*
BETTER HYDRATION*,
BETTER RECOVERY*,
BETTER PERFORMANCE*
Fast recovery is a cornerstone of athletic performance. Alpha Amino and Alpha Amino Xtreme features Chia Seed, Raw Coconut Concentrate and HydroMax®, combined with a unique blend of amino acids, to produce the ultimate recovery and hydration formula.*
Chia Seed Extract and Raw Coconut Concentrate have been in the spotlight for their ability to hydrate the body, while HydroMax® is a novel ingredient that has the ability to increase the concentration of fluid in the tissues of the body.*
ALPHA AMINO XTREME: PERFORMANCE ENERGY POWERED BY AN XTREME BLEND
The performance benefits don't end with Alpha Amino Xtreme's aminos—the formula also contains ingredients for extreme energy.* Alpha Amino Xtreme has a high powered blend of caffeine, B vitamins, as well as the clinically studied ingredient XCELICOR™. XCELICOR™ puts the X-factor in Alpha Amino Xtreme. It promotes long lasting, explosive energy for a profound impact on performance.*
Ratings & Reviews
By clicking the button above, you agree to entering the Bodybuilding.com Reviews section. Products in the Store are not intended to diagnose, treat, cure, or prevent any disease.