UNUSED CATEGORY Guide
Introduction To Creatine Other
Watch this quick video to get the scoop on creatine other!
Kick-A$$ Workouts When You Want 'Em
CREATINE HELPS YOU BUILD AN A-LIST BODY
If you perform high intensity exercise like weight training or athletic exercise, your muscles are using tons of energy to help you achieve successful workouts. Creatine may help with muscular endurance, and it promotes the explosive energy your muscles use to pound through each repetition.* Creatine products are designed with one thing in mind - maximum workout performance.*
Creatine may help delay fatigue, recover quickly, and push hard in the gym, all factors that work together to help you see success.* Whether you want a pre-workout for energy, a post-workout for recovery, or anything in between, you can find a creatine product to fit your needs and your tastebuds!*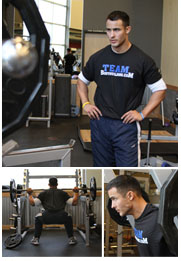 All UNUSED CATEGORY Products
* These statements have not been evaluated by the Food and Drug Administration. This product is not intended to diagnose, treat, cure, or prevent any disease.