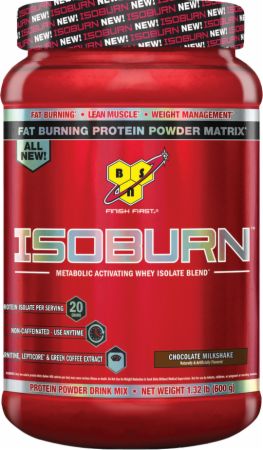 Isoburn
Fat Burning Protein Powder
20g of Whey Protein Isolate Powder to Build Muscle and Burn Fat*
Supported Goal:
Lose Fat
Main Ingredient:
Whey Protein

25,000,000+
Orders Shipped
Fastest
Shipping
Lowest
Prices
24/7/365
Live Support
Largest
Selection
Product Overview
Fat Burning Protein

Powder Matrix
Fat Burning*
Weight Management*
Lean Muscle
Exercise Recovery
Push your performance past previous barriers.
WHEY PROTEIN ISOLATE PER SERVING
L-CARNITINE, LEPTICORE® & GREEN COFFEE EXTRACT
DECAFFEINATED - USE ANYTIME
FAT-BURNING PROTEIN POWDER MATRIX
This unique 2-in-1 product combines the muscle-building potential of pure Whey Protein Isolates with fat-burning support from L-Carnitine. We've also add Green Coffee Extract and Lepticore. This simulant-free powder mixes easily into cold water to provide the delicious milkshake taste you've come to love from BSN®. It's the perfect 120 calorie shake for active adults who are determined to build lean mass while cutting body fat.*
2-In-1 Support for Your Fit Physique
If you're into regular exercise and watch what you eat, BSN®'s ISOBURN® is a great fit for your healthy, active lifestyle. Each serving delivers 20 grams of Whey Protein Isolate to help support muscle and recovery.* This quality protein powder will help supplement the daily amount of protein required by your body and help you to reap the benefits from every training session. ISOBURN®'s ingredients also help support fat-burning with the inclusion of L-Carnitine. Because it's stimulant-free, you can mix up a great tasting ISOBURN® shake any time of day.
The Science behind the Burn
ISOBURN® delivers 250 mg of L-Carnitine per serving. Carnitine may help fat-burning by supporting fat oxidation for energy production.* ISOBURN® also contains 300 mg of LeptiCore per serving, which is a multifunctional complex consisting of blue-green algae, pomegranate, fatty acids, and polysaccharides. Lastly, ISOBURN® delivers 300mg of Green Coffee Extract per serving. Green Coffee Extract comes from Green Coffee Beans, or coffee beans that have yet to be roasted.
BSN Supplementation
At BSN®, we have designed our products to complement one another. When used together, they can help enhance the overall benefits of your supplementation and workout regimen.*
Ratings & Reviews
By clicking the button above, you agree to entering the Bodybuilding.com Reviews section. Products in the Store are not intended to diagnose, treat, cure, or prevent any disease.