24/7 Customer Service 1-866-236-8417
BSN:

Endorush Xtreme Strength
Ready to Drink Energy and Performance Formula*
Supports Endurance, Mental Alertness, and Electrolyte Replenishment*
Supported Goal: Increase Energy
Main Ingredient: L-Arginine
BSN Endorush Xtreme Strength Product Guide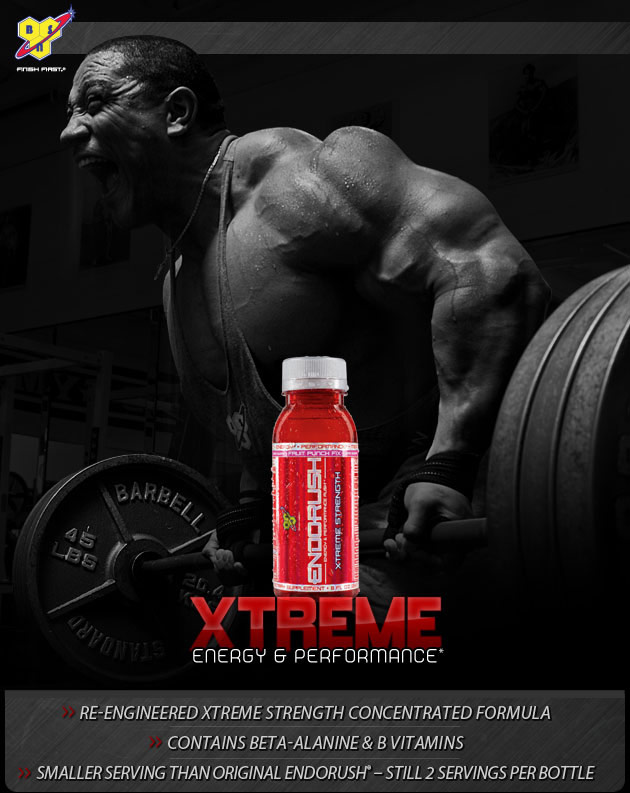 BSN® has taken one of its most popular products and engineered an amped up, slimmed down version with the introduction of ENDORUSH® XTREME STRENGTH. A multi-functional energy & performance support supplement, ENDORUSH® XTREME STRENGTH is designed to support:*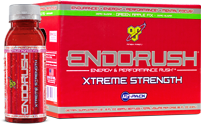 Energy and Performance*
Endurance*
Mental Alertness and Focus*
Electrolyte Replenishment*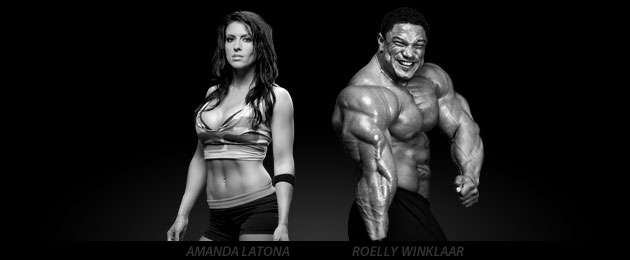 ENDORUSH® XTREME STRENGTH is a ready-to-drink, ultra-premium energy and performance supplement that delivers powerful energy, focus and endurance support to meet a variety of challenges, athletic or otherwise.* Building off the success of the original ENDORUSH® formula, this latest version features a concentrated proprietary blend and a serving size that's half that of the original, increasing convenience and portability while limiting the amount of liquid that must be consumed to experience the formula's powerful effects.*
ENDORUSH® XTREME STRENGTH's blend of caffeine, B vitamins and essential amino acids supports mental and physical performance, while its electrolyte replacers help maintain adequate hydration throughout prolonged physical exercise.* And by delivering its energy- and performance-supporting effects with zero sugar content, ENDORUSH® XTREME STRENGTH avoids the unnecessary calories and energy crash associated with many sugary energy drinks - and it tastes delicious!*
ENDORUSH® XTREME STRENGTH offers benefits for all active individuals or anyone looking to gain an edge on their competition. BSN®'s most powerful ready-to-drink energy and performance formula yet is designed to fuel top performers across every field, keeping users fired up, focused and properly hydrated.* For powerful physical and mental support delivered by ultra-premium nutrients and bio-active ingredients, the truly driven choose ENDORUSH® XTREME STRENGTH.*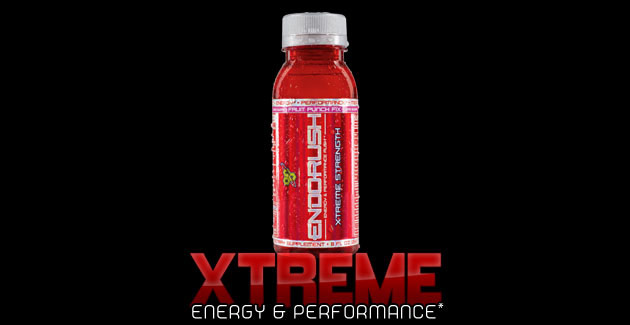 BSN Endorush Xtreme Strength Purchase Information
Order today using our 100% secure server and get it at the lowest prices in the world with our fast, inexpensive 2-3 day shipping! NOBODY beats our overall price!
12 - 8 Fl. Oz. Bottles

$35.88

$27.88

Flavor
Taste
Availability

Fruit Punch Fix

Currently Unavailable

Grape Fix

8.5
In Stock
Recommended For You

More Info
Optimum Nutrition Presents:
24g of Whey Protein with Amino Acids for Muscle Recovery and Growth*
Do You Use This Product?
BSN:
Endorush Xtreme Strength
12 - 8 Fl. Oz. Bottles

$35.88

$27.88

Flavor
Taste
Availability

Fruit Punch Fix

Currently Unavailable

Grape Fix

8.5
In Stock
Manufacturer information:
This works well with:
What's in BSN Endorush Xtreme Strength?
12 - 8 Fl. Oz. Bottles

Fruit Punch Fix

Supplement Facts

Serving Size:

4

Fl Oz

(118

ml)

Servings Per Container:

24

Amount Per Serving

% Daily Value†

Calories

5

Total Carbohydrate

<

1

g

<1%

Sugars

0

g

**

Riboflavin (Vitamin B2)

2

mg

118%

Niacin (Vitamin B3)

12

mg

60%

Vitamin B6 (As Pyridoxine HCl)

12

mg

600%

Folate (Folic Acid)

200

mcg

50%

Vitamin B12 (As Cyanocobalamin)

120

mcg

2,000%

Calcium

9

mg

1%

Phosphorus

25

mg

3%

Magnesium

12

mg

3%

Chromium

10

mcg

8%

Sodium

7

mg

<1%

Potassium

15

mg

<1%

Endorush® Proprietary Matrix

8

g

Nox (Endurance & Performance) Fusion*

**

L-Arginine-Alpha-Ketoflutaric ACid, Beta-Alanine (CarnoSyn®), L-Citrulline-Malic Acid, L-Citrulline-Alpha-Ketoglutaric Acid, L-Histidine-Alpha-Ketoglutaric Acid

Ener-Tropic (Energy & Nootropic) Rush*

**

Taurine, N-Acetyl-Tyrosine, Glucuronolactone, Methylxanthine (Caffeine)

Glycerol Hydrating Polymers*

**

Potassium Glycerophosphate, Magnesium Glycerophosphate

Phospho-Electrolyte Replacements*

**

Di-Calcium Phosphate, Di-Potassium Phosphate, Di-Sodium Phosphate

Insulino-Mimetic Matrix*

**

Cinullin-PF® (Cinnamon Extract)(Bark), Chromium Propionate (CR-Pro™)

† Percent Daily Values are based on a 2,000 calorie diet.

** Daily Value not established.
Other Ingredients:

Tripled Filtered Water

, Natural & Artificial Flavors [Soy]

, Phosphoric Acid

, Citric Acid

, Sucralose

, Potassium Benzoate

, Potassium Sorbate

, Acesulfame Potassium

, Potassium Citrate

, Calcium Silicate

, And FD&C Red #40.

Allergen Warning:

Manufactured In A Facility Which Processes Products Containing Dairy, Soy, Shellfish, And Fish.
Directions For Endorush Xtreme Strength:
As a dietary supplement, always shake well before use and begin by consuming 1/2 bottle (approx. 4 oz) or less. Wait 30 minutes to assess your tolerance. If desired, after 30 minutes consume an additional 1/4 bottle or less and assess your tolerance again. Consuming ENDORUSH on an empty stomach may intensify its effects and reduce your tolerance.
NOTE: Some settling may occur due to the solubility of the amino acids contained in ENDORUSH.
Warnings:
ENDORUSH is strictly intended for use by healthy adults 18-50 years of age. Before consuming ENDORUSH seek advice from a physician if you are unaware of your current health condition. This product contains caffeine. DO NOT use ENDORUSH if you have any pre-existing medical condition including but not limited to: high or low blood pressure, stroke, cardiac arrhythmia, heart, liver, kidney, or thyroid disease, recurrent headaches, anxiety, depression, seizure disorder, psychiatric or epileptic disorders, diabetes, pernicious anemia, difficulty urinating, enlarged prostate or glaucoma, or if you are taking an MAO inhibitor, anti-depressants, or other medications or over the counter drugs containing stimulants. DO NOT use and consult with a physician if you are pregnant, nursing, or contemplating pregnancy, prone to dehydration, or exposed to excessive heat. Discontinue use and call a physician immediately if you experience chest pain, tremors, dizziness, severe headaches, nausea, an irregular heartbeat, or shortness of breath. Consume a minimum of 120 ounces of water daily in conjunction with a healthy diet. Discontinue 2 weeks prior to surgery. After 6 months of consecutive use discontinue for at least 4 weeks. Keep out of reach of children and pets and others for whom use of this product is not strictly intended. Use only as directed. Combining ENDORUSH with alcohol may increase the risk of low blood pressure (hypotension) and/or low blood sugar (hypoglycemia) particularly in the fasted state. Please be aware this product contains the naturally occurring amino acid Beta-Alanine, which may cause a tingling skin sensation in some individuals similar to niacin flush. This effect should diminish after a few hours and should ultimately subside after days of continuous use. Although rare, individuals with the genetic disorder hyper Beta-Alaninemia should not use this product. Store in a cool dry place away from direct sunlight. Too much caffeine may cause nervousness, irritability, sleeplessness, and, occasionally, rapid heart beat. Not recommended for use by children under 18 years of age.
* These statements have not been evaluated by the Food and Drug Administration. This product is not intended to diagnose, treat, cure, or prevent any disease.