24/7 Customer Service 1-866-236-8417
BSN:

Aromavex
Concentrated Hormonal Support!*
Complements Testosterone Support And Is An Important Addition To Any Man's Supplement Regimen!*
Supported Goal: Men's Health

BSN Aromavex Product Guide
BSN® continues to innovate and expand its product line with the introduction of AROMAVEX™. Intended to complement testosterone support supplements like BSN®'s EVOTEST™, AROMAVEX™ offers crucial hormonal support and is an important addition to any man's supplement regimen.*
AROMAVEX™ Highlights:
BSN®'s First Concentrated Hormonal Support Supplement
Full 3-Week Supply in Each Bottle
AROMAVEX™ represents new territory for BSN®, as it's the company's first concentrated hormonal support supplement. With the release of EVOTEST™, BSN® offered athletes a new, cutting-edge kind of testosterone support supplement, leading the company's innovative Research & Development team to create a sister product that could ensure crucial hormone support during or after completion of a testosterone support supplement regimen.*
The AROMAVEX™ formula is based on ingredients such as calcium-d-glucarate and vitamin D as well as a number of innovative botanical extracts. The result is efficient, useful hormone support that allows the body to transition smoothly back to its normal state.* For any athlete taking a testosterone support supplement, AROMAVEX™ is an important component of an effective supplementation plan.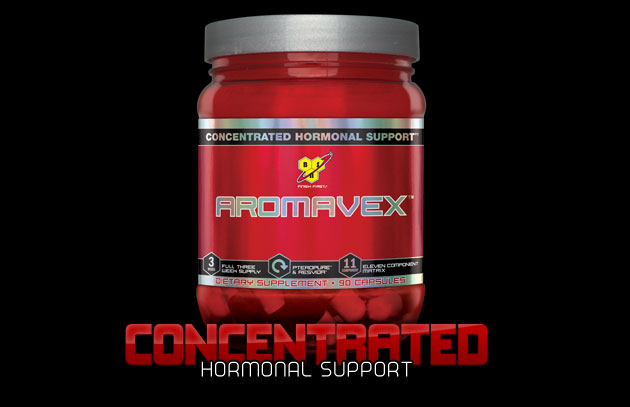 For best results supplements should be taken as directed over time, at maximum dosage in conjunction with a healthy diet and regular exercise program. Results may vary.
BSN Aromavex Purchase Information
Order today using our 100% secure server and get it at the lowest prices in the world with our fast, inexpensive 2-3 day shipping! NOBODY beats our overall price!
90 Capsules

$59.99

$26.24

In Stock
Recommended For You
More Info
MusclePharm Presents:
Pre-Workout Formula for Energy, Focus, Strength, and Endurance*

More Info
Dymatize Presents:
High Quality Protein, Loaded with Muscle Fuel and a New Improved Taste*
Do You Use This Product?
90 Capsules

$59.99

$26.24

In Stock
Manufacturer information:
What's in BSN Aromavex?
90 Capsules

Supplement Facts

Serving Size

1

Capsule

Servings Per Container

90

Amount Per Serving

% Daily Value

Vitamin D (As Cholecalciferol)

250

IU

63%

Calcium (As Calcium-D-Glucarate)

18

mg

2%

AROMAVEX Interfusion

720

mg

**

Calcium-D-Glucarate, Mangosteen Extract (Fruit) (20% Flavonoids, 10% Alpha-Mangostin), Prunella Vulgaris Extract (Fruit), Barberry Wolfberry Extract (Fruit), Turmeric Extract (Rhizomes) (90% Curcuminoids), Bee Propolis (60% Propolis, 3% Flavonoids), Grape Seed Extract (85% Polyphenols), Pterostilbene (PTeroPure®), Trans-Resveratrol (ResVida®), Black Pepper Extract (Fruit) (95% Piperine) (BioPerine®) And Cholecaliciferol.

** Daily Value not established
Other Ingredients:

Gelatin

, Silicon Dioxide

, Magnesium Stearate

, Microcrystalline Cellulose

, FD&C Red #3

, Titanium Dioxide

, FD&C Yellow #6

, FD&C Red #40

, And FD&C Blue #1.

Allergen Warning: Manufactured On Equipment Which Processes Products Containing Milk, Egg, Soybeans, Shellfish, Fish, Bee Propolis, Tree Nuts And Peanuts.

BioPerine® Is A Registered Trademark Of Sabinsa Corporation.

PTeroPure® Is A Trademark Of ChromaDex, Inc.
Directions For Aromavex: As a dietary supplement, take 1 capsule 4 times per day.
Note: After using 1 bottle, discontinue use for at least 2 weeks.
Warnings: Not for use by those with pre-existing medical conditions or taking any medications or those under the age of 18 or over 50. Not for use by women. This product contains bee propolis which may cause allergic reactions in some individuals. Store in a dry place away from direct sunlight.
* These statements have not been evaluated by the Food and Drug Administration. This product is not intended to diagnose, treat, cure, or prevent any disease.