Super Advanced Whey Protein
Premium Protein
Muscle Mass & Strength Fuel*
Supported Goal:
Build Muscle
Main Ingredient:
Whey Protein
25,000,000+
Orders Shipped

Fastest
Shipping
Lowest
Prices
24/7/365
Live Support

Largest
Selection
Product Overview
super advanced whey protein
premium muscle building whey protein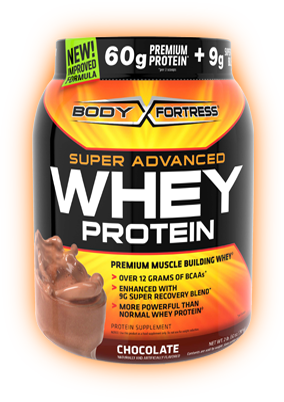 more powerful than normal whey*
performance & recovery*
rapid nutrient delivery*
lean muscle building*
Delivers a powerful blend of Premium Whey Protein and Lean Mass Activators that athletes need to help build muscle and crush their workouts.*
What separated Super Advanced Whey Protein from normal whey is the inclusion of our Super Recovery Blend. This non-proprietary blend includes a powerful combination of ingredients that supports faster recovery during high-intensity training and creates a more powerful muscle-building formula than Whey Protein alone.*
Ratings & Reviews
By clicking the button above, you agree to entering the Bodybuilding.com Reviews section. Products in the Store are not intended to diagnose, treat, cure, or prevent any disease.
No written review.
8Vanilla
7Chocolate Peanut Butter
Good product. All flavors mix well with water and I don't use a shaker. Vanilla is by far the best tasting followed by Choc PB. CnC & Chocolate lack a good taste in my opinion. I am moving on to a different brand that is also an isolate for less carbs & fat. Overall a good product.
7Chocolate
10Vanilla
10Chocolate Peanut Butter

I?ve always been wary about taking too much creatine, but this formula takes all the guess work out of post workout supplementation. It has every amino acid, Just the right amount of creatine, and makes it so easy to get all the nutrients I need post-workout all from one product. Chocolate Milk = Delicious
I swear on my life i just bought this product June 12, 2012 for $18.95 and now its $23.45 on June16c 2012 WTF IS GOING ON. For this bad taste it should never raise above 20 dollars

This protein is great for lean mass meaning you're gonna get bigger but you're cutting at the same time and it also good for recovery.As far as the taste its ok but Im not worry about the taste as long as it works.If I wanted a tasty shake I would go to Chick-fi-la.
Never tried this product but if Mike O'Hearn supports this brand, so do I!

So, price goes up - 2lbs to the container as usual, appears to be the same nutrition - 30gm protein per scoop - OH! lol!!! But the scoop is bigger! So no...not the same, won't last as long - so price has gone up, amount has gone down. Boo for you!
If you are looking for protein at a cheap price then it will fit the bill but you'll hate the taste of it.
No written review.
9Strawberry
3Chocolate Peanut Butter