Click here to enlarge
RIPPED JUICE EX2
Advanced Thermogenic Capsule for Fat Loss*
Enhances Mood and Energy and Promotes Appetite Control*
Supported Goal:
Weight Loss
Main Ingredient:
Caffeine
25,000,000+
Orders Shipped
Fastest
Shipping
Lowest
Prices

24/7/365
Live Support

Largest
Selection
Product Overview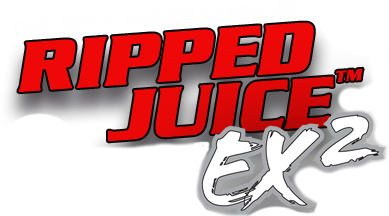 ADVANCED THERMOGENIC*
MOOD/ENERGY ENHANCING, FAT LOSS FORMULA*
RAUWOLSCINE
HCL
CITRUS
AURANTIUM
GREEN
COFFEE BEAN
The Evolution of Fat Loss:Just One Capsule Per Serving
Utilizes the latest research on Nootropics (ingredients for attention, motivation and concentration) to create

the most sustained energy/alertness experience available.*

Provides caloric expenditure and thermo genesis you can FEEL.

Never before has a fat burner been created that allows you to feel your body expending calories like this until now.*

Optimal appetite control:

through the Nootropic effect you won't have to succumb to your cravings. You will have control over when and what you eat which will be necessary to meet your fat loss goals.*

N Acetyl Tyrosine:

more bioavailable then tyrosine with a higher absorption rate. This leads to a lower dosage to receive the benefits of L-Tyrosine. Tyrosine is an amino acid required for the production of epinephrine and norepinephrine (adrenal hormones) as well as dopamine.*

N Methyltyramine:

Tyramine has been used in fat loss/energy products in the past because of its ability to slow the rate monoamine oxidase (enzymes that metabolize adrenal hormones). It's methylated counterpart promotes superior adrenal effects.*

Citrus aurantium:

has been used for a long time in fat loss products because of its synephrine content which is shown to have lipolytic (fat loss) activity. It contains Tyramine metabolites: N-methyltyramine, octopamine and synephrine.*

Green Coffee Bean (Chlorogenic Acid):

The hype surrounding Green Coffee Bean is really a result of its chlorogenic acid content which is responsible for all the fat loss claims. Chlorogenic acid helps your body to tap into its fat stores for fuel.*

Rauwolscine HCL:

targets fat loss. It also acts as a central nervous system stimulant without the side effects normally associated with strong stimulants (less chance of crash or jitters).*
Ratings & Reviews
By clicking the button above, you agree to entering the Bodybuilding.com Reviews section. Products in the Store are not intended to diagnose, treat, cure, or prevent any disease.