24/7 Customer Service 1-866-236-8417
Betancourt Nutrition:

Deprogen ARS
Hormone Support Capsule*
For Athletes and Bodybuilders to Support Healthy Hormone Management*
Supported Goal: Build Muscle
Main Ingredient: Methoxyisoflavone
Betancourt Nutrition Deprogen ARS Product Guide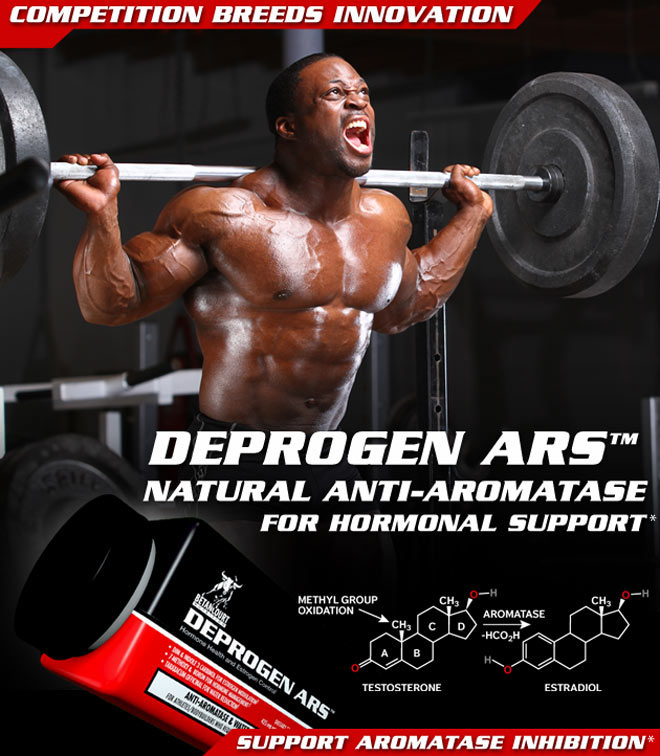 Betancourt Nutrition's Deprogen ARS™ (Anti-Aromatase) is designed for athletes/bodybuilders at the highest level of competition who must maintain healthy hormone levels as they undergo metabolic stress from strenuous exercise.* Deprogen ARS is also effective for athletes looking to promote healthy hormone levels after competitions or periods of intense training.* The ingredients used in Deprogen ARS are based on human studies as recent as 2007. Deprogen ARS is also ideal for athletes/bodybuilders seeking to manage body fat levels.*
7-methoxyflavanone- Flavones have been surmised to promote aromatase inhibition for years in research.* The methylated flavones are suggested to be more bio available.*


-Ta N, Walle T. Aromatase inhibition by bioavailable methylated flavones. J Steroid Biochem Mol Biol. 2007 Oct;107(1-2):127-9. Epub 2007 Jun 6

Boron- Free testosterone increased in humans after Boron supplementation.


-Naghii MR, et al. Comparative effects of daily and weekly boron supplementation on plasma. J Trace Elem Med Biol. 2011 Jan;25(1):54-8. Epub 2010 Dec 3

Indole 3 Carbinol- Helps support healthy estrogen levels in humans.*


-Michnovicz JJ, Bradlow HL. Altered estrogen metabolism and excretion in humans following consumption of indole-3-carbinol. Nutr. 1991;16(1):59-66.

DIM (3,3'-Diindolylmethane)- Supports estrogen metabolism in humans.*


-Rajoria S, et al. 3,3'-diindolylmethane modulates estrogen metabolism. Thyroid. 2011 Mar;21(3):299-304. Epub 2011 Jan 22.2X as much Boron as the competition for naturally rebounding testosterone levels.*
Betancourt Nutrition Deprogen ARS Purchase Information
Order today using our 100% secure server and get it at the lowest prices in the world with our fast, inexpensive 2-3 day shipping! NOBODY beats our overall price!
60 Capsules

$59.99

$19.29

In Stock
Recommended For You
More Info
Optimum Nutrition Presents:
Train Longer and Harder with Intense Energy and Focus*

More Info
Dymatize Presents:
High Quality Protein, Loaded with Muscle Fuel and a New Improved Taste*
Do You Use This Product?
Betancourt Nutrition:
Deprogen ARS
60 Capsules

$59.99

$19.29

In Stock
Manufacturer information:
This works well with:
What's in Betancourt Nutrition Deprogen ARS?
60 Capsules

Supplement Facts

Serving Size

1

Capsule

Servings Per Container

60

Amount Per Serving

% Daily Value

Dandelion Root (Taraxacum Officinale)

250

mg

*

Indole 3 Carbinol

100

mg

*

(DIM) Di-Indolyl Methane

50

mg

*

7-Methoxyflavone

25

mg

*

Bioperine™ (Black Pepper Extract)

5

mg

*

Boron (Boron Citrate)

5

mg

*

* Daily Value not established
Other Ingredients:
Gelatin
, Rice Flour
, Vegetable Magnesium Stearate
, Silicon Dioxide.
Directions For Deprogen ARS: As a dietary supplement consume 1 capsule on an empty stomach first thing in the morning and at night. Do not take for longer than 4-6 weeks without at least 2-4 weeks of discontinuing use.
Warnings: For use by healthy adult males only. NOT FOR USE BY INDIVIDUALS UNDER THE AGE OF 18 YEARS. DO NOT USE IF PREGNANT OR NURSING. Consult a physician or licensed qualified healthcare professional before using this product, including, but not limited to, if you have, or have a family history of, prostate cancer, prostate enlargement, heart disease, low "good" cholesterol (HDL), or if you are using any other dietary supplement, prescription drug or over-the-counter drug. Do not exceed recommended serving. Exceeding recommended serving may cause serious adverse health effects. Possible side effects include acne, hair loss, hair growth on the face (in women), aggressiveness and irritability. Discontinue use and call a physician or licensed qualified health care professional immediately if you experience rapid heartbeat, dizziness, blurred vision or other similar symptoms.
* These statements have not been evaluated by the Food and Drug Administration. This product is not intended to diagnose, treat, cure, or prevent any disease.