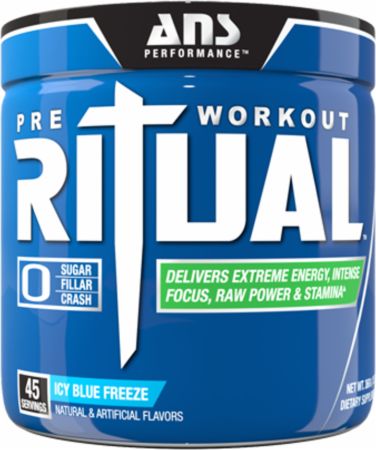 RITUAL
Pre-Workout Powder For Increased Energy*
Delivers Extreme Energy, Intense Focus, Raw Power, & Stamina*
Supported Goal:
Improve Workout
Main Ingredient:
Beta-Alanine
25,000,000+
Orders Shipped

Fastest
Shipping

Lowest
Prices
24/7/365
Live Support

Largest
Selection
Product Overview
The Strongest & Most Complete
Pre-Workout
Formula Ever Developed*
This
is my
ritual
1600

MG
Beta-Alanine

1500

MG
L-Citrulline

1500

MG
Creatine



1250

MG
Betaine

500

MG
Agmapure™

100

MG
Xanthaurine
Incredible Rush of Energy, Focus & Strength*
Skin-Splitting Muscle Pumps & Vascularity*
Enhanced Endurance and Performance*
Amplifies Workout Power Output*
Maximum Absorption with AstraGin™*
A great workout begins with proper preparation. Your diet, your mindset and energy levels all play a role in the success of your training. What you take as a pre-workout supplement can often make or break your performance.
Imagine a product that could help you exceed previous boundaries; support unmatched energy, stamina and focus to elevate your game to your highest potential.* Imagine a product that could replicate the unstoppable and indestructible feeling you had at 18. Imagine a product that delivered cutting-edge science at clinical doses and wasn't loaded with sugar, fillers or made you crash.
Now stop imagining, you've just found it. This is Your New Pre-Workout RITUAL™
REAL SCIENCE. REAL RESULTS.
Ratings & Reviews
By clicking the button above, you agree to entering the Bodybuilding.com Reviews section. Products in the Store are not intended to diagnose, treat, cure, or prevent any disease.