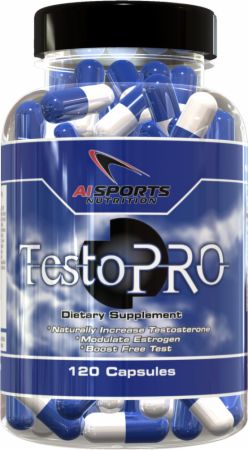 Click here to enlarge
TestoPRO
Testosterone Support Capsule for Building Muscle*
May Help Support a Healthy Testosterone to Estrogen Balance*
Supported Goal:
Build Muscle
Main Ingredient:
Fenugreek
25,000,000+
Orders Shipped
Fastest
Shipping
Lowest
Prices

24/7/365
Live Support

Largest
Selection
Product Overview
Testosterone; It is the male's physical life-blood. TestoPRO™ may help support healthy testosterone levels.* You are obviously reading this because you want to be bigger, stronger, and be at the top of your game performance wise. TestoPRO can make that happen and then some. TestoPRO is an all-natural testosterone booster that uses only the most scientifically backed ingredients to promote testosterone levels.* You may support more strength leading to heavier lifts, more muscle mass increase, lots of natural energy, and support for sexual health.*
How does TestoPRO work?
TestoPRO works by freeing up testosterone the body already has. Circulating testosterone is bound by a glycoprotein called sex hormone binding globulin, or SHBG. TestoPRO works by reducing this process, resulting in support for free testosterone (the biologically active form), supporting strength, lean mass, and even fat loss.*
What separates TestoPRO from other natural testosterone boosters?
Science! We use only the best ingredients that studies suggest will work!
Who can benefit from TestoPRO?
Anyone 18 years or older, especially males 30 and older, looking to maximize testosterone levels.*
TESTOSURGE® is a novel, proprietary substance extracted from Fenugreek (Trigonella Foenun greacum) seeds and is patent pending by INDUS BIOTECH.
It has been suggested in a placebo controlled, double-blind study to have a significant impact in lowering body fat, and significantly increasing both total and, and significantly increase both total and bioavailable (free) testosterone.*
Benefits of TestoSurge:
Maximize testosterone production!*
Lose fat! – Not only does it boost testosterone, it may also support fat loss, compared to placebo.*
Support sex health, muscle building and vitality*
Divanil is a compound suggested to support testosterone by binding to sex-hormone-binding-globulin, or SHBG. SHBG is a glycoprotein that binds to sex hormones, specifically testosterone and estradiol. By using Divanil™, to support healthy SHBG levels, we are able to help support the levels of free testosterone in the body.* Free testosterone is the only form of testosterone able to enter the cell and initiate the positive benefits that testosterone will provide.*
Indole-3-Carbinol is a compound found in high concentrations in Brassica family vegetables, including broccoli, cauliflower, Brussels sprouts, and cabbage. Indole-3-Carbinol has several effects, including anti-oxidant, and finally the reason we included it in our formula – estrogen balance support.* The metabolism of estradiol results primarily in either 2-hydroxyestrone or 16a-hydroxyestrone, and to a lesser extent 4-hydroxyestrone. Indole-3-Carbinol helps the body to support a health testosterone to estrogen balance.* 2-hydroxyestrone, as you read, may also help in this way.*
BioPerine® enhances the body's natural thermogenic activity-hence the term Thermonutrient®. This enhancement may be explained as a means of increasing the thermal energy sufficient to "power up" the mechanism related to thermogenesis. This in turn results in increased metabolic processes that creates a "demand" for "supply" of a broad range of nutrients that contribute to metabolism, i.e. vitamins, minerals, herbals, amino acids, etc. It is as if BioPerine® activates a metabolic paddle wheel, of sorts, that selectively provides a more efficient mode of nutrient transportation into the blood.*
Ratings & Reviews
By clicking the button above, you agree to entering the Bodybuilding.com Reviews section. Products in the Store are not intended to diagnose, treat, cure, or prevent any disease.