24/7 Customer Service 1-866-236-8417
All American EFX:

Kre-Alkalyn EFX
PH Correct Creatine!
The Kre-Alkalyn Patent Holders Original Brand - Featuring Multi-Patented pHCD Delivery Technology!
Supported Goal: Build Muscle
Main Ingredient: Kre-Alkalyn
All American EFX Kre-Alkalyn EFX Product Guide
Buy 2 Get Free Bonus Item! For a limited time, buy 2 All American EFX Karbolyn, 4.4 Lbs. in the flavor of your choice & get 1 All American EFX Kre-Alkalyn EFX, 100 Grams Unflavored FREE! Hurry while supplies last! Add all 3 items to your cart and the discount will automatically be applied.
See discounted Subtotal when viewing your cart.
Limit 1 Per Order.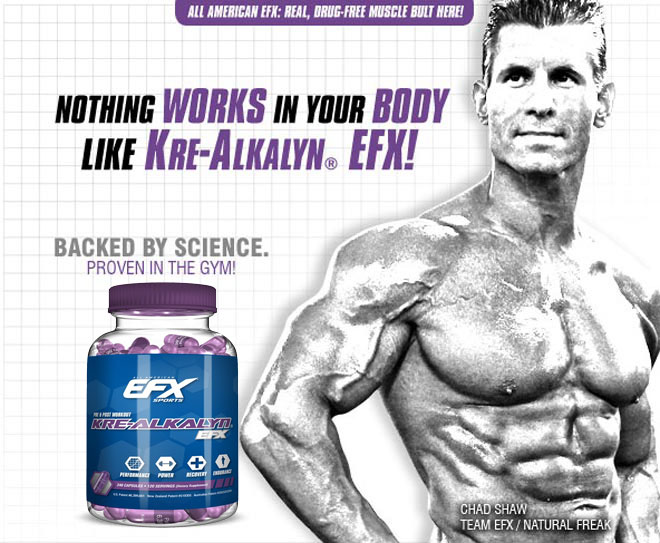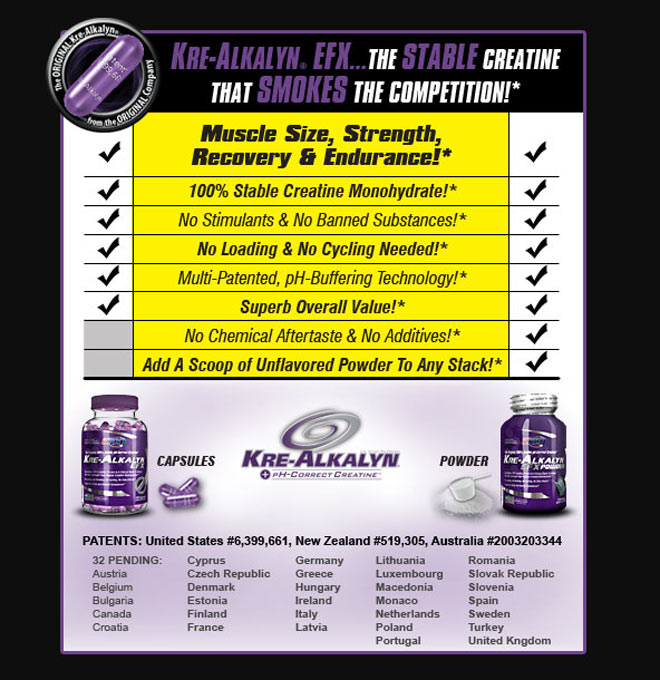 QUESTION #1: WHY IS KRE-ALKALYN® POSSIBLY THE ONLY CREATINE THAT DOESN'T LOSE POTENCY BEFORE BEING ABSORBED?*
(HINT: IT HAS TO DO WITH PH LEVELS AND MULTIPLE PATENTS)
Scientists have already known for years that creatine may become unstable and begin to break down into creatinine (a useless byproduct) once it's activated with a liquid or hits stomach acids. Kre-Alkalyn's patent research suggests that the speed of this conversion process is directly related to a creatine's pH level-the lower the pH, the more susceptible it is to conversion. Furthermore, this same conversion rate slows dramatically as the pH of the creatine is raised above 7...and stops completely above pH 12.

QUESTION #2: IF RAISING THE PH ABOVE 7 FIXES CREATINE'S STABILITY ISSUE, WHY DON'T OTHER COMPANIES JUST RAISE THEIRS TOO?
ANSWER: PATENT # 6,399,661 MEANS THEY CAN'T.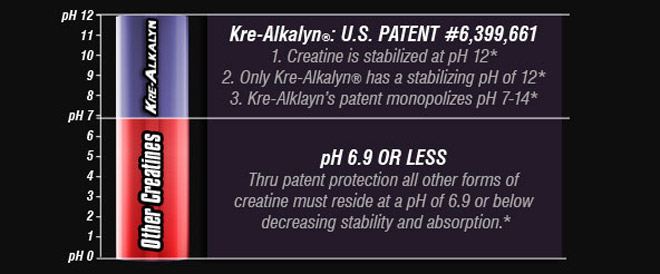 As this pH graph illustrates, Kre-Alkalyn's patent covers all pH levels from 7-14. Therefore, the pH of all other creatine products must be pH 6.9 or less - meaning they will convert to creatinine in liquids.
QUESTION #3: WHY CHOOSE CREATINE MONOHYDRATE OVER ANYTHING ELSE?
Creatine Monohydrate is the ONLY form of creatine backed by 200+ studies.
Over 70 published in peer-reviewed journals.
Just like 2 + 2 always equals 4... the end result of the initial creatine synthesis process is ALWAYS Creatine Monohydrate. You CANNOT make any other 'form' of creatine from scratch.
Wanna take a guess what Kre-Alkalyn® EFX is? You got it! Kre-Alkalyn® EFX tests out as 99.9% pure creatine monohydrate!
QUESTION #4: WHY DOES INDUSTRY EXPERT 'X' SAY CREATINE ISN'T UNSTABLE?
Don't take our word for it. Let's see what the Merck Index has to say instead. What's the Merck Index you ask? It's THE go-to reference used by chemists, biochemists, etc. - it's a standard fixture in every lab.
Under the heading, Creatine (#2637, pg. 435 of the 12th edition) we read: "In aqueous solution creatinine is formed...". As for the pH of creatine, "...and aqueous and alkaline solutions contain an equilibrium mixture of creatine and creatinine, while in acid solution the formation of creatinine is complete".
Furthermore, this highly respected publication also points out this information is based on research performed... back in 1928. (Canna, Shore, Biochem. J. 22, 924 (1928). In other words, science has known about creatine's stability issue for over 84 years!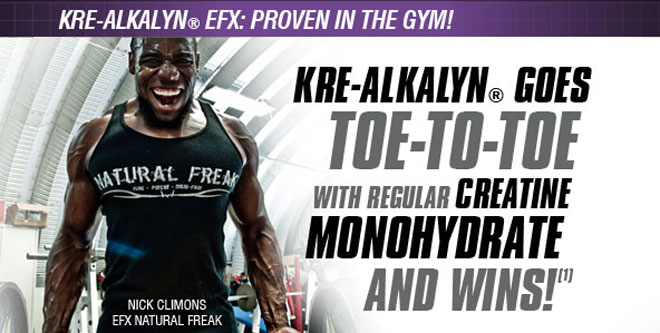 24 members of the Bulgarian National Weightlifting Team were selected to participate in a landmark double-blind clinical study comparing Kre-Alkalyn® to standard creatine monohydrate. The final results were shocking!
After 60 days the Kre-Alkalyn® group experienced an overall average strength increase of 28.25% above those in the creatine monohydrate group!* Remember, these weren't "newbies". They were all world-class competitors.
Referenced: (1) Stoychev K., Terziiski N. (2006). "Comparison of Kre-Alkalyn® to
Creatine...performance, & safety".
Think about it. If Kre-Alkalyn® worked this well for these elite Olympic athletes, imagine what it could do for you!
Most Bodybuilders Keep Jumping From One Type Of Creatine To The Next... Hoping Their Results Will Match The Hype.
THE DISAPPOINTMENT ENDS HERE WITH KRE-ALKALYN® EFX!.
KRE-ALKALYN® EFX... LOOK FOR IT BY COLOR. ASK FOR IT BY NAME!
We take what you put into your body seriously. Like all of our products, Kre-Alkalyn® EFX is made with passion and care. That's why we test everything before, during, and after production to isolate and eliminate impurities - and guarantee 100% potency. We also test for heavy metals and melamine content. We even have our products screened by an independent WADA lab for drugs and banned substances. Our 150,000 sq ft manufacturing facility is also cGMP and registered with the Informed-Choice banned substance screening program.

All American EFX Kre-Alkalyn EFX Purchase Information
Order today using our 100% secure server and get it at the lowest prices in the world with our fast, inexpensive 2-3 day shipping! NOBODY beats our overall price!
16 Fl. Oz.

$31.49

$17.79

Grape

In Stock
60 Capsules

$19.99

$9.99

In Stock
100 Grams

$28.99

$13.97

Unflavored

In Stock
120 Capsules

$39.95

$13.28

In Stock
210 Grams

$56.99

$27.62

Unflavored

In Stock
240 Capsules

$54.99

$23.98

In Stock
Recommended For You

More Info
Optimum Presents:
Packed With Whey Protein Isolates For Ultra-Fast Absorption!*
Do You Use This Product?
All American EFX:
Kre-Alkalyn EFX
16 Fl. Oz.

$31.49

$17.79

Grape

In Stock
60 Capsules

$19.99

$9.99

In Stock
100 Grams

$28.99

$13.97

Unflavored

In Stock
120 Capsules

$39.95

$13.28

In Stock
210 Grams

$56.99

$27.62

Unflavored

In Stock
240 Capsules

$54.99

$23.98

In Stock
Manufacturer information:
This works well with:
What's in All American EFX Kre-Alkalyn EFX?
120 Capsules

Supplement Facts

Serving Size

2

Capsules

Servings Per Container

60

Amount Per Serving

% DV

Kre-Alkalyn®

1500

mg*

†

(Buffered Creatine Monohydrate, US Patent

#6,399,661)

† Daily Value not established
Inactive Ingredients
Maltodextrin
, Magnesium Stearate
Directions For Kre-Alkalyn EFX:
For Capsules: Take 2 capsules daily, or 1 hour before your workout.
For Powder: As a dietary supplement, mix 1/2 scoop in 4 oz. of water or your favorite beverage 30 minutes before exercise and 1/2 scoop post-workout.
For Liquid:
As a dietary supplement, take 7.5 ml (approximately 1/2 TBSP) 30 minutes before workout. No loading needed.
* These statements have not been evaluated by the Food and Drug Administration. This product is not intended to diagnose, treat, cure, or prevent any disease.