[ Matt Weik ] First off I want to say thank you for freeing up some time for this interview. And congratulations are in order! During the weekend you won both the Figure and Fitness Overall titles at the NPC Team Universe/Figure Nationals.
Not only did you win both, but you also got yourself two IFBB Pro Cards - possibly the only woman in history to do so! How does it feel to leave the show with both Overalls and your pro cards?

[ Nicole Wilkins ] It feels amazing!! I had placed 2nd at Jr. Nationals with a fall in my routine so I was hoping to take home a pro card in fitness this year. However, it was the first time competing at Nationals in figure so I had no idea how I was going to place among the other girls. I was completely overwhelmed and excited!

[ MW ] Did you feel like you were going to win the show (let alone both overalls) or were you surprised?

[ NW ] I went into the show knowing that I put forth everything I could. I never skipped out on a cardio session or missed a meal. I was confident with the way my body had shaped up during the last year and was pleased with my suits and routine.

I felt like everything came together at the right time. I was confident and hoped to win, but to win the whole show was a dream come true.

[ MW ] Did you change up your training/diet for this contest or did you keep everything the same as previous shows?

[ NW ] This year my cardio was at a higher intensity split up into three seperate shorter sessions instead of two, and with routine practice 2x a week at a faster pace I believe it really helped me bring in a tighter package. I kept my carbs a bit lower this time around too.

[ MW ] Obviously you are a personal trainer, but do you have a training partner or trainer you work with?

[ NW ] I do all my upper body training alone. I used to workout with a partner but it is too hard to get together at the same times for every workout. For legs, I do a ton of plyometrics to help with my routines and I do have a client who trains them with me.

One day I asked her if she would mind if we did legs together for that day, she liked it so much that she asked if we could do legs together every week. It works for me because she loves fast paced workouts and it keeps me on my toes. Her name is Judy and she is amazing.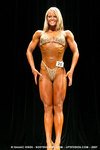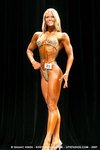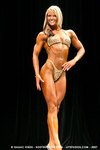 Click To Enlarge.
Nicole Wilkins.
View More Pics From The 2007 NPC Team Universe Championships Here.

[ MW ] Do you do your own nutrition plans for your contests or do you have a nutritionist that helps you with your prep?

[ NW ] I have been working with Kim Oddo for the last year. Before that I used to do it all on my own with the help of my boyfriend. I felt that I had brought myself as far as I could on my own. I knew that if I wanted to move to the next level, I would need a little assistance.

I have learned a lot from Kim. The hardest part about a contest diet is that everyone is a little different. Working with a trainer takes a lot of unnecessary stress out of the prep so that you can become more mentally focused.
RELATED ARTICLE
An Interview With Kim Oddo!

Kim Oddo shares how he got started in the industry and tips on choosing a trainer that's right for you. He is currently working with super star Monica Brant on her upcoming Arnold Classic figure competition.
[ Click here to learn more. ]

[ MW ] Can you tell us a little bit about your background in both Fitness and Figure and what got you started?

[ NW ] Well, I was a gymnast for 13 years and during high school I had two knee surgeries. During that time I began more strength training with the guidance of my gymnastics coach Mel. He was a powerlifter so he taught me proper form when lifting with free weights and how to incorporate calisthenics into a workout.

When I graduated high school, I had more fun lifting in the gym and I decided not to do college gymnastics. Mel coached Laura Mak and when I went to the 2002 Arnold Classic (I competed in gymnastics that year at the Arnold) and saw her on the fitness stage I knew that I wanted to do that same thing.

I met my current boyfriend that following summer and he competed in bodybuilding, so he helped me prep for my first show- the Western Michigan. The rest is history.

[ MW ] Do you favor one (Fitness or Figure) over the other?

[ NW ] I love the rush of fitness. I love getting on stage and performing. I can't really say that I favor one or the other. Fitness and Figure both require a lot of time and dedication, but once you compete, there are no words to describe the sense of accomplishment you feel win or lose.

[ MW ] Which do you feel you are better at?

[ NW ] I tend to place higher in the physique rounds at every show I do, however I feel that my routine has improved tremendously from last year.

[ MW ] What does your diet look like during the off-season and pre-contest?

[ NW ] During the off-season my nutrition plan is similar but with higher fats and carbohydrates. I still eat clean every 2-3 hrs with high protein. I do cheat once a week, which is something I never do in season.

[ MW ] What is the hardest thing (food) for you to give up when you are preparing for a contest?

[ NW ] Probably fruit. I love bananas and raisins in my oatmeal and apples with peanut butter.

[ MW ] After your win at the NPC Team Universe/Figure Nationals, what was the first thing you ate? Any cravings?

[ NW ] You aren't going to believe this, but Saturday night I got back to the hotel so late after the show that I just had rice cakes and peanut butter lol! I had to meet with J.M. Manion for the NPC News Magazine photoshoot so I didn't want to feel bloated and disgusting, so after the shoot on Sunday morning we went to brunch and I had a burger and fries!

I really didn't have any specific cravings- anything other than fish sounded good to me!

[ MW ] What do your workouts look like during the off-season and pre-contest?

[ NW ] Cardio is usually 5x a week 30min a session during the off-season and ranges up to 2hrs in season. My strength-training program changes up often, usually every couple months and doesn't change too much pre-season. I have really been focusing on my shoulders, hamstrings and glutes.

[ MW ] Now that you have your pro card, what can your fans expect to see from you in the future?

[ NW ] We will see. My ultimate goal is to win the Olympia!! Duh- isn't that everyone's goal?!

[ MW ] Which competitors do you look up to? Do you have any role models?

[ NW ] I admire many competitors in the sport. We didn't pick an easy sport to participate in. It takes a lot of hard work and sacrifice to get where you want to be. One of my role models in the industry is Monica Brant.

[ MW ] Being so young, you have GREAT potential to have much success in the sport for a very long time. What goals have you set for yourself for the upcoming years?

[ NW ] I help run a personal training studio in Sterling Heights, MI called Top Shape Fitness, Inc. I would love to open more studios and do more public speaking and appearances to help spread the knowledge of health and fitness to individuals ranging from beginners to advanced athletes.

I want people to know that I am not just another fitness model and competitor, that I genuinely want to help others get in shape and be healthy too. I want to see how far this career will take me. I am going to go as long as I can in this sport.

[ MW ] I noticed on your MySpace profile that you are a personal trainer and help manage TSF Studio. Can you tell us a little bit about your studio and is that something you are going to continue to do now that you have your pro card?

[ NW ] Top Shape Fitness, Inc. opened in 2005 and is a personal training studio. It is a private one-on-one training studio that does not sell memberships. I am definitely going to continue to train my clients now that I am a pro. Alan and I would love to open more studios around the US to spread the health and fitness lifestyle.

Our clients range from 10yr olds to 89yr olds and beginners to athletes. Our market is to the average individual who wants to reduce their risk of disease and learn how to workout correctly. You can check us out at www.tsfstudio.com.

[ MW ] When you're not in the gym, what do you like to do in your spare time?

[ NW ] I love to go to concerts and sporting events. I am definitely more of a dinner and a movie kind of girl. I love spending time with friends at a BBQ, going to get a coffee, shopping, and traveling.

[ MW ] Are there any people in particular that you would like to thank who have helped you along the way?

[ NW ] Alan has been my #1 support. He started me up in the sport and is always there for me. My family and friends are very encouraging too. I want to thank Kim Oddo, my trainer, Cathy Savage for my routine choreography and Cynthia James as well for the beautiful suits.
Click To Enlarge.
Nicole Wilkins.
View More Pics From The 2007 NPC Team Universe Championships Here.

[ MW ] Thank you again for taking the time out of your schedule to do this interview with me. It was an honor and I look forward to speaking to you and watching your progress down the road after you compete in some pro shows (and win!). Take care and thank you again!