[ Q ] Being the defending and reigning Shawn Ray Colorado Pro Figure Champion, do you feel more or less pressure coming back?

[ A ] Both. On one hand, it is fun being the underdog who can slip in and surprise the industry. Staying out of all the attention, hype, and expectations while quietly focusing and working hard to come in your best is definitely a nice place to be.

Doing your own thing without distractions or high expectations, and focusing on your true purpose for competing is what it's really all about.
Click Image To Enlarge.
Valerie Waugaman At The 2006 Colorado Pro.
View More Pics Of The 2006 Colorado Pro Here.
It's also motivating to repeat a rewarding performance. Challenging myself to "BRING IT" once again. To confirm it was not a fluke and that I can even improve on the package I brought last year. I think both are worthwhile experiences.

The true pressure really only lies within yourself. A few weeks after the show is over no one really cares about how you did except you. If you do your best, you're always a winner. If not, then it's time to step it up a notch!
Click Image To Enlarge.
Valerie Waugaman At The 2006 Colorado Pro.
View More Pics Of The 2006 Colorado Pro Here.
One thing I learned is to never take any show for granted. There are no guarantee shoe-ins for any competitor. With a highly competitive lineup, any figure Pro who brings their best package to the stage can take the title at any given show. There are plenty of new pros who are hungry for victory and have the package to go with it.

I never assume anything. I just focus on improving what I bring to each show with a goal of being innovative and different each time to keep it interesting and fun for both myself and the fans of the sport. That said, I STILL TRAIN TO WIN!

[ Q ] Your last contest placing at the Arnold Classic left many fans booing the decision. Did you feel like it was just and how do you handle the decision and what the fans say?

[ A ] Placing top 5 in the world is a huge accomplishment that I am very proud of. My goal was to bring forth the best Valerie Waugaman ever to shake Arnold's hand. I did achieve my goal as I introduced myself to Arnold backstage. I gave him my business card and photo of him and myself that I used for motivation. He even sent me a letter of encouragement in the mail after the event!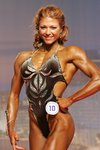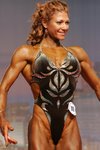 Click Image To Enlarge.
Valerie Waugaman At The 2007 Arnold.
View More Pics Of Valerie Waugaman At The 2007 Arnold Here.
Of course, I always train to win. Winning the title would have been the ultimate experience. But, I felt like a champion the entire weekend anyway. I met so many people who gave me positive encouragement and feedback.

The crowd support was encouraging. I'm already living my dream. Winning the Arnold title would be the icing on the cake! (... a fat-free, sugar-free cake that is).

After examining the photos after the show, I could see that my legs (as crazy as they are) were a little too much for the marketability of the figure sport. Toning them down a bit in my posing is something to consider. We need to maintain as distinct differentiation from figure to bodybuilding for our sport to continue to grow as much as it has the last few years.

Legs Training:

I want to be a positive example for upcoming competitors. It will be tough to hold those crazy legs back as they have a life of their own, but I can see the benefit to doing so.

I can't wait to present again at the Colorado Pro. It's always a fun challenge to bring something new to the table (or stage). This show has great significance for me as it was my first and only pro title. Plus I had such a great time in the city of Denver. I decided to promote my next figure camp in the Denver/Boulder area because it is so beautiful.

[ Q ] Is there much "Cat Fighting" going on between the Pro Figure or do you ladies get along and sort of coexist while competing for the same Prize Money?

[ A ] The definition of "Professional Athlete" holds true for the Pro Figure ladies. Most of us keep it professional, courteous, and fun during the shows. We help each other out with suits, tanning, lending a hand or a pair of scissors for emergency adjustments.
RELATED ARTICLE
Fit Mission Revolution!


Join your host, Valerie Waugaman, as she leads the way down the road to the 2007 Arnold and the coveted Figure International title and springboards the Fit Mission Revolution into the minds of millions, improving lives along the way!
[ Click here to learn more. ]
At the end of the day, we cannot control who wins, and it doesn't do any of us good if we were not to support each other. Not all of us are best friends, but that's really based on our different personalities.

I think most of us agree that the better we all present ourselves on stage, the better it is for the growth of our sport, which in turn means more exposure, more pro shows and greater prize money. The truth is, there is not a lot of prize money to go around, so it's better not to expect it. Focus on making your money in other areas, and if you win a show it's like getting a bonus.

[ Q ] What advice would you give an Amateur seeking to compete as a Pro Figure Lady, things to watch out for or look forward to?

[ A ] Look forward to a more professional environment. You will definitely notice a difference with fellow competitors, promoters, and industry people when you're a pro. You'll notice at the big shows that the promoters and IFBB staff truly want to ensure you have everything you need for a good experience.

A great thing to look forward to as a pro is that aspiring competitors will recognize you and they'll be excited to meet you. This is really fun, but it's important to remember that not too long ago you were in their shoes.

Treating them with respect and empowering them to reach their own goals is the best thing a pro can do. It's what helps our sport continue to grow in a positive direction. I think it's a good idea to find a company, or show promoters to work with so you can stay involved in the industry year round.
Get out there and learn what the business is all about. Some of my favorite shows are the small local ones where the true personal transformation begins for most competitors. They are just so excited to be there, and it is fun to watch and encourage them on stage.

This doesn't mean that you should let your guard down. Watch out for people that want to jump onto your success train and guide you down a path that is not in your best interest. Some people may want to be your friend for the wrong reasons.

Take everything you hear people say with a grain of salt and follow your instincts. If you don't get a good vibe from someone, then politely direct your attention elsewhere. You will also run into people that think you are looking for advice on how to get noticed as a new pro.

They may offer to train you or introduce you to a new process that they think is better for you. My advice is to stick with your gut and do what you know is best for you. Stick with the things that got you to where you are and focus on improving one thing at a time. You know yourself best, so don't let anyone convince you otherwise.

[ Q ] You're now promoting Camps to help ladies get in shape and compete, explain what it entails and where others can find information about them?

[ A ] Yes, I call it CHAMP CAMP! Actually, there are two types of camps that I am promoting. One is for anyone ready to improve their current level of health & fitness and take it up a notch! We focus on how to develop the wellness lifestyle habits for long term change. It's all about bringing forth the Champion Within!

I am also promoting figure specific camps that cover the basics and then some:

Figure Industry Overview: The first step, and the next steps
Intense Workouts for muscle building/sculpting as well as environmental cardio!
Posing Instruction
Mock Competition
Contest Diet Tips
Motivation/Goal Setting Workshop
Show Preparation Guide: Suits, Tanning, Hair & Makeup, Emergency kit, Travel Necessities and more...
Professional & National Level Guest Figure Competitors to answer your questions
Fantastic Meals fit for a Figure Competitor as well as a Queen: You'll never want to be off your nutrition plan with these tasty recipes


Fit Mission Revolution, Episode #6:
Champ Camp Cleveland.

Click The Play Button To Start The Video.
I have to acknowledge and give thanks to the Fit Mission team of fitness-minded friends who contribute to the success of Champ Camp. Without this team of super-power coaches, Champ Camp wouldn't be possible. Thank you Sarah Sharpe, Patti Ellins, Kathleen Zamora, Dr. Gabrielle Young, Beverly Gabbay, and many others.

Next Champ Camp Figure is the weekend of August 4th in Denver/Boulder. It will be a 2-3 day camp. Visit www.Fitmission.com or www.Valspace.com for details and registration.

View Valerie's BodySpace Here.